About
Council Division Leaders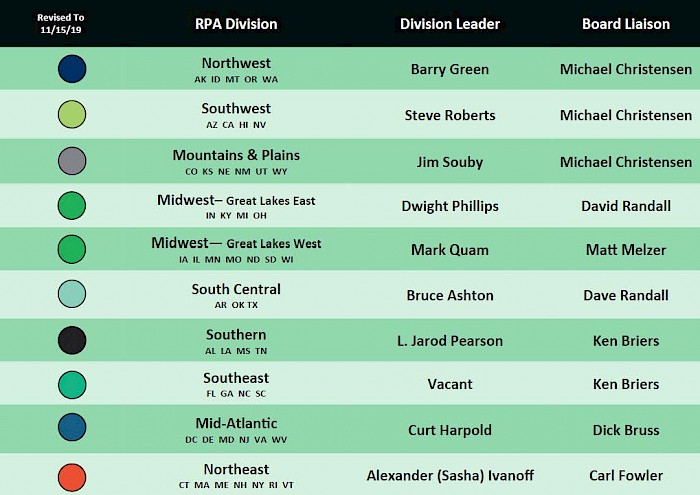 Purpose
The Division Leader is responsible for organizing and leading the Council Representatives and At-Large Representatives within his or her Division to plan and execute the programs and activities at the grassroots level needed to accomplish the Association's mission and strategic plans. The Division Leader is responsible for ensuring effective two-way communication between state and regional leaders and their designated Board Liaison.
Qualifications
A Division Leader is able to able to listen, think creatively, communicate effectively, forge consensus, lead and inspire others. An understanding of and experience in grassroots political organizing is highly desirable. Personal traits such as patience, persistence and persuasiveness are important. An enthusiastic commitment to the Association's mission and a willingness to devote considerable time and energy are essential.
Key Responsibilities
Recruits, appoints and trains Representative Coordinators where needed in consultation with their designated Board Liaison and State Representatives for his or her Division
Chairs regular meetings with Council Representatives and At-Large Representatives in the Division
Encourages the planning and execution of programs at the State/Regional Level
Coordinates Rail Passengers Association state or regional activities within their Division
Makes regular reports of problems, opportunities, activities and accomplishments to their designated Board Liaison
Identifies and recruits qualified candidates for Representative Coordinators where needed and the Council of Representatives, especially where there are vacancies
Identifies and spreads the use of "best practices" identified by the Rail Passengers Association and its leaders
Coordinates with other Division Leaders on projects or programs that cross Division boundaries Reports to a designated Board Liaison. Supervises Representative Coordinators
Approved by the Division Leaders in Alexandria, VA 04/22/12
"When [NARP] comes to Washington, you help embolden us in our efforts to continue the progress for passenger rail. And not just on the Northeast Corridor. All over America! High-speed rail, passenger rail is coming to America, thanks to a lot of your efforts! We're partners in this. ... You are the ones that are going to make this happen. Do not be dissuaded by the naysayers. There are thousands of people all over America who are for passenger rail and you represent the best of what America is about!"
Secretary Ray LaHood, U.S. Department of Transportation
2012 NARP Spring Council Meeting