Happening Now
Rail Passengers Honor Jim Hamre's Memory with Golden Spike
April 20, 2018
Hamre Devoted His Life to Passenger Rail and Building Lasting Relationships
For Immediate Release (17-29)
Contact: Xenophon Strategies - (202) 289-4001
Washington, D.C. - The Rail Passengers Association (RPA) recognized Jim Hamre's life and memory by posthumously awarding him the Association's Golden Spike Award at the Association's Congressional Reception. Hamre was a strong advocate for passenger rail in the Pacific Northwest as a member of Rail Passengers Association and vice president of All Aboard Washington.
"Jim Hamre epitomized what it means to be a rail advocate and a friend and this award is only a small token of our appreciation for his work," said Rail Passengers President Jim Mathews. "He spent four decades working to improve and increase passenger rail service. Along the way, he built important and long-lasting relationships that helped change the future of Amtrak service in the Pacific Northwest. Jim will be missed."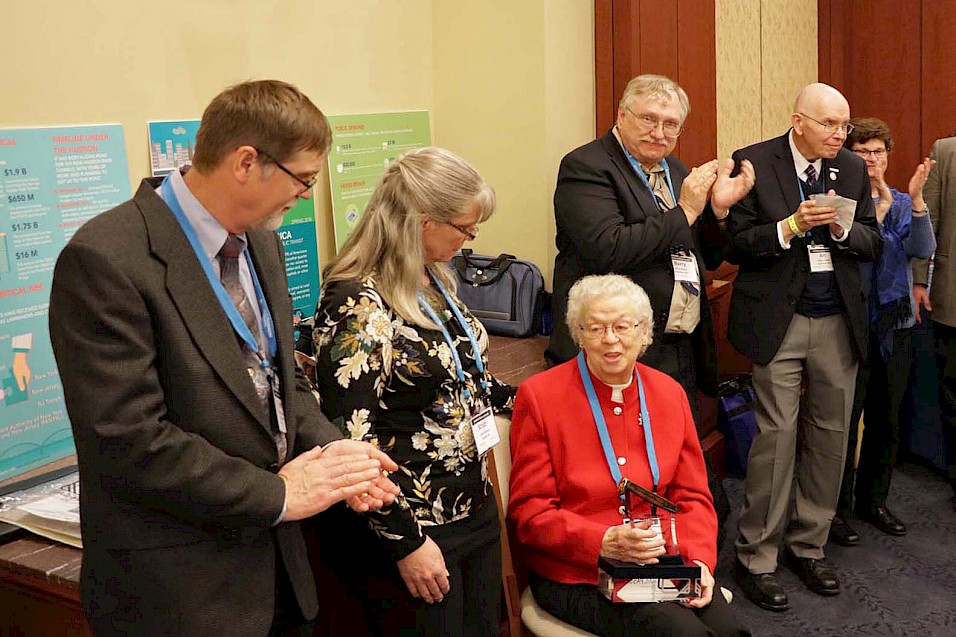 Hamre lost his life, along with friend and fellow Rail Passengers Association member, Zack Willhoite on December 18, 2017 after Amtrak #501 derailed in DuPont, WA. He had devoted his life to passenger rail, beginning his work as early as the 1970's. Hamre studied at Washington State University when he began working for the Milwaukee Road line from Chicago to Seattle. During the 80's, Hamre began working at the Washington State Department of Transportation and got involved in transportation advocacy work.
"Jim met with me often, and he was always—figuratively speaking, gently and always appropriately—putting his finger in my chest to help me understand what it is that I should do. It is a great loss," Rep. Denny Heck (D-WA) said during Rail Passengers Association's Golden Spike Award Ceremony. "And I want to say this about that one element that could have prevented his death, and that of dozens and dozens of others, Positive Train Control—we ought to all adopt a battle cry: no more excuses, no more delays. And we're going to get there. And we're going to get there in part, in very apt and fitting memory and honor of Jim."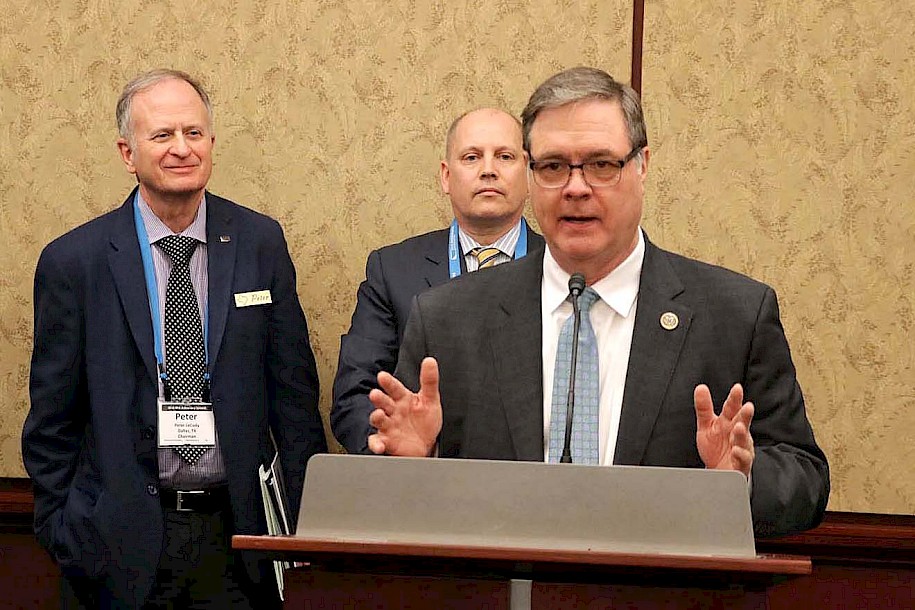 Hamre and Willhoite, as well as Benjamin Graham, lost their lives when Amtrak #501 derailed, but Positive Train Control (PTC) technology could have prevented the derailment altogether. The train was traveling on a new route through Washington state before it derailed, but PTC technology, which can remotely monitor, stop and slow trains that are speeding and at risk of derailment or a collision, was not installed.
"Amtrak #501's derailment was devastating for friends and family of Jim's, but what made it that much worse was that it was preventable," Mathews said. "We will continue to work to make sure this life-saving technology is finally put in place."
Congress had originally mandated that all railroads install PTC on its tracks and trains by 2015. Due to the cost and inability of railroads and transit agencies to PTC, Congress pushed the extended the deadline to the end of 2018.
In the Association's 50-year history, the Golden Spike has been awarded to giants in entertainment such as Johnny Cash and Walt Disney, as well as Debbie Reynolds, who is credited with the idea for the award a half century ago. Most recently, it has been gifted to elected officials in Congress, like the late Rep. Louise M. Slaughter (D-NY), who have helped push forward new legislation in support of maintaining and furthering passenger rail in the U.S.
Regardless of their background, all recipients have shared a common theme: actions of great service on behalf of America's passengers. Concerning that exemplar, Jim Hamre deserves recognition among this impressive shared company to the extent that they are lucky to rank with him.
About the Rail Passengers Association
The Rail Passengers Association is the oldest and largest national organization speaking for the nearly 40 million users of passenger trains and rail transit. We have worked since 1967 to expand the quality and quantity of passenger rail in the U.S. Our mission is to work towards a modern, customer-focused national passenger train network that provides a travel choice Americans want. Our work is supported by more than 28,000 individual members nationwide.
"The Rail Passenger Association's recognition of the essential work done by SMART-TD members aboard Amtrak during this difficult period is appreciated. The Golden Spike Award serves as a testament to the compassion and dedication our conductors, assistant conductors and other workers exhibit constantly through times both ordinary and extraordinary."
Jeremy Ferguson, SMART-TD President
December 21, 2021, on the Association awarding its 2021 Golden Spike Award to the Frontline Amtrak Employees.