Happening Now
Majority of Americans Want More Investments in Passenger Rail
March 21, 2022
New Poll: 78% of Americans Want Increased Investments in Passenger Rail in the U.S.
For Immediate Release (22-03)
Contact: Madison Butler, [email protected]
New Poll: 78% of Americans Want Increased Investments in Passenger Rail in the U.S.
Washington, D.C. -- The vast majority of Americans want the federal government to invest in strengthening the national passenger rail network, according to a new poll by the Rail Passengers Association (RPA), the nation's largest advocacy organization for rail passengers. Specifically, 78% of respondents said having a strong passenger rail system in the U.S. is "Important" and 66% said they support adding more routes to the current rail network.

The results of the poll come after President Joe Biden signed the Investment in Infrastructure and Jobs Act, which could provide up to $100 billion for the national network over the next five years.

"Americans want and deserve a robust, efficient, and practical national rail network. The signing of the Bipartisan Infrastructure Bill gives us a once-in-a-generation chance to deliver on that promise," said Rail Passengers President & CEO Jim Mathews. "This support we see is broad-based across all demographics – Republicans, Democrats and Independents, men and women of all ages and races, and even rural or urban living."

The poll found that there is strong support among all political parties, social and ethnic groups for passenger rail, which reinforces the importance of a strong network. Some of the key demographic findings of support include:
95% of Democrats said rail was important, while 61% of Republicans said it was important.
77% of independents said a strong rail network was important to them.
80% of women and 75% of men said passenger rail was important.
91% of Black or African American respondents said passenger rail was important – the highest percentage among all ethnicities: 81% for Hispanic or Latinx and 75% for White or Caucasian.
82% of respondents living in urban America said a strong rail network is important, while 74% who live in Rural America and 78% who live in Suburban America also said it was important.
A whopping 60% of participants said they support the inclusion of $100 billion for rail as part of the five-year, $1 trillion infrastructure bill. Of that $100 billion, $66 billion comes in the form of guaranteed funding; the remaining $36 billion is authorized, but subject to the discretion of Congressional appropriations over the lifetime of the bill. A third of the guaranteed funds will go directly to Amtrak to address the railroads aging infrastructure, and the remaining two-thirds will be distributed as part of a competitive grant program for states and local governments interested in upgrading existing passenger rail service and bringing new corridors online. Only a minority of Americans (33%) had concerns about expense, inconvenience and service, labeling the quality of the rail network as poor.

"U.S. rail passengers have suffered from too much disinvestment for too many years, which has contributed to many people feeling disenfranchised from our country's passenger rail system," Mathews said. "New federal dollars however, coupled with strong national interest, will see tremendous upgrades in a modernized network, not only improving the overall rider experience but connecting long-neglected communities to the economic benefits mobility brings."

Of those polled, 42% also said the Infrastructure Bill should contain more than the $100 billion currently allotted for rail, including 24% of respondents who thought the bill should contain much more funding.

"It's heartening to see such strong support for passenger rail in the US," said Mathews. "This poll demonstrates what we have been saying for a long time."

RPA's polling was conducted in November 2021 by Change Research and polled 1,280 registered voters from across the United States.
See the survey methodology here

See the survey memo here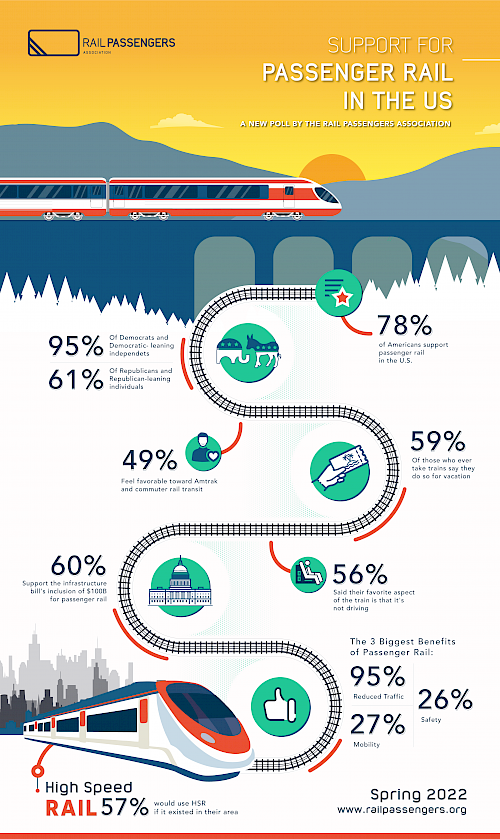 ###
About Rail Passengers Association
The Rail Passengers Association is the oldest and largest national organization serving as a voice for the more than 40 million rail passengers in the U.S. Our mission is to improve and expand conventional intercity and regional passenger train services, support higher speed rail initiatives, increase connectivity among all forms of transportation and ensure safety for our country's trains and passengers. All of this makes communities safer, more accessible and more productive, improving the lives of everyone who lives, works and plays in towns all across America.
"The Rail Passenger Association's recognition of the essential work done by SMART-TD members aboard Amtrak during this difficult period is appreciated. The Golden Spike Award serves as a testament to the compassion and dedication our conductors, assistant conductors and other workers exhibit constantly through times both ordinary and extraordinary."
Jeremy Ferguson, SMART-TD President
December 21, 2021, on the Association awarding its 2021 Golden Spike Award to the Frontline Amtrak Employees.