Hotline #982
Lawmakers Pursue New TSA Legislation; NYC Transit Agencies Increase Security Following Bombings; Tom Hanks Supports National Rail Network
September 23, 2016
The U.S. Senate Republicans released the text of a proposed Continuing Resolution to keep the government funded past September 30th, including language to allow for a new Amtrak accounting structure.
The provision, called an anomaly, is necessary to allow for the old funding structure to be applied using the new structure required by the FAST Act of 2015. It avoids saddling Amtrak with additional costs and wasted hours that would come from having to run two parallel accounting systems, and is a responsible use of taxpayer resources.
Amtrak received $1.39 billion, commensurate with its FY2016 budget. Congress did change the allocations, providing $235,000,000 for the Northeast Corridor and $1,155,000,000 for the National Network.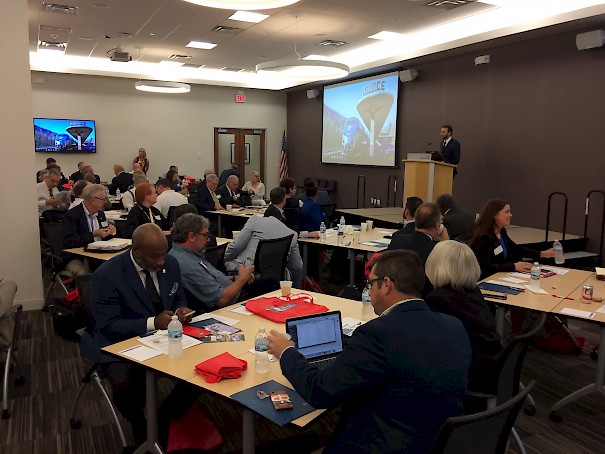 As part of an effort to bring better connectivity to Amtrak's Cardinal corridor, overflow crowds of state DOT representatives, federal officials, advocates and other partners gathered today in Cincinnati to kick off a campaign for a daily train. The newly-launched coalition, which included official representatives from four states, listened to NARP President & CEO Jim Mathews deliver luncheon remarks, highlighting NARP's Daily Cardinal grassroots efforts.
Chairman of the Senate Commerce, Science and Transportation Committee Senator John Thune (R-S.D.) and ranking member of the committee Senator Bill Nelson (D-Fla), will soon release legislation that will allow the Transportation Security Administration to allocate resources for surface transportation security efforts. The effort is to ensure that the TSA is providing security and safety measures for all forms of transportation, including passenger rail, as opposed to solely aviation. The lawmakers said they were concerned by comments from TSA Administrator Peter Neffenger earlier this year, when he testified that the agency only spends three percent of its annual budget protecting trains, subways, buses and ports. Although aviation remains a top target for terrorism, the duo pointed out that terrorists have killed civilians at rail and transit stations in Europe. There has also been an increasing shift towards so-called "soft target" areas, especially as airport and airplane security has ramped up in recent years.
The measure comes just prior to bombings this past weekend in New York City and New Jersey. Following the bombing in New York, which injured 29 people in the Chelsea area of the city, the Metropolitan Transportation Authority (MTA) in New York City increased patrols and surveillance, while the MTA police department also increased the presence of uniformed and plainclothes officers, while canine teams and emergency service units have been deployed to provide extra protection. At the agency's railroads, MTA has increased patrols of trains and random bag checks at various locations. In addition, the Port Authority of New York and New Jersey (PANYNJ) has increased increased police patrols at all of the agency's facilities. PANYNJ owns and operates the Port Authority Trans-Hudson commuter-rail line between New Jersey and Midtown Manhattan. There were also two bombings in New Jersey: one on Sunday near a train station in Elizabeth, while the other occurred Saturday at a Marine Corps charity run in Seaside Park. Fortunately, no injuries were reported in these two incidents. The bombing at the station in Elizabeth also impacted Amtrak's schedule in the Northeast Corridor, but the agency resumed service on a modified schedule earlier this week.
---
Register Today For The "A Connected America...The Future Has Begun"
Advocacy Symposium & Meeting October 14 - 16 In Denver!
Make plans now to attend NARP's Fall 2016 Advocacy Symposium and Membership Meeting, being held in Denver, CO, Friday, October 14 - Sunday, October 16. Complete information and agenda for this exciting event is now posted on the event webpage and will be updated regularly as the final planning process continues. Event Registration is NOW open along with a full listing of the available registration options and rates.
Friday's activities include an evening Welcome Reception in the Main Hall of Denver Union Station. FYI...the Friday daytime tour of the new Denver RTD Rail Lines and Maintenance Facility is now FULL!
Saturday's Symposium will feature speakers and panels of interest to all advocates, including on the following topics:
Moving Ahead With Shared Passenger/Freight Corridors

Is Transit-Oriented Development The Answer?

Sneak Peek At The Future: U.S. Passenger Rail In 2025 And Beyond

Solving the Infrastructure Conundrum: The $300+Billion Elephant In The Room

Colorado Regional Challenges And Opportunities

Fulfilling High-Speed Rail's Promise
Representatives from Texas Central Railway will give the lunch keynote address.
NARP business sessions will be held on Sunday morning, following by the wrap-up lunch with Gary DeFrange, CEO - Winter Park Resorts.
Please beware that due to higher than expected demand, the discounted group rate hotel rooms at the host hotel, the Embassy Suites Denver Downtown, are now sold out. Other category rooms are however available at the Embassy Suites. In addition, there are a number of nearby hotels within walking distance of the Embassy Suites with available rooms and attractive rates. A complete listing of these alternate hotel options is posted on the event web page.
---
Supporters for a national rail network are everywhere throughout the U.S., including Hollywood. When asked by Parade what he would do if he were president, actor Tom Hanks stated he would develop a modern rail network, similar to those in Europe. "This is goofy, and this is just absolutely me. I would make a truly great state-of-the-art national rail service a huge priority because of the infrastructure it would provide. So let's just make really good rail transportation all over our country, so we don't have to go to O'Hare and be at the mercy of rainstorms and backed-up flights. Why can't we take a good train from St. Louis to Denver? And have it really only take like eight hours. Have it like it is in Europe, where it's cheap, efficient and fast. That's what I'd do."
Just like NARP intern Elena Studier did this summer, Amtrak riders will now have the opportunity to travel by rail with their bicycles. Moving forward, U.S. Trainside checked bicycle service will be made available on a variety of routes, including the Cardinal, Sunset Limited, California Zephyr, Empire Builder, Southwest Chief, City of New Orleans, Lake Shore Limited and Texas Eagle. This service is also new for Northeast Regional trains with baggage service – trains 65, 66 and 67 – for travel between Boston and Newport News, Va. Amtrak first launched bike service in 2015, and the transit agency has seen significant use of the resource by Amtrak customers. During the summer months of June, July and August, Amtrak carried more than 15,000 bikes.
Often, when we think of high-speed rail for the U.S., it's use is to connect people and cities within the country. But high-speed rail has many implementations and can be used to connect people to Mexico and Canada. Take for example the effort being led by officials in Seattle, WA and Vancouver, B.C., who are eager to connect the two cities with an international high-speed train. This past week, politicians from both cities met as part of the Emerging Cascadia Innovation Corridor Conference in Vancouver and discussed the possibilities of connecting the two cities with travel time under an hour. During the meeting, traffic and congestion on the roads was discussed, and how the traffic will continue to get worse as Vancouver area's population is expected to increase by 50 percent from 2.2 million to 3.4 million in the next few decades. In Seattle, population is expected to rise about 30 percent, to approximately 5 million people in the region by 2040.
---
There are still openings for state representatives on the NARP Council of Representatives in several states, including one each in Alabama; Arizona; Delaware; Hawaii; Idaho; Louisiana; Missouri; Nebraska; Nevada; New Jersey; North Carolina; North Dakota: Ohio (2 Seats) and Wyoming. Check out the full, up-to-date, list of current vacancies here.
If you live in these states and want to become more active in NARP's work, this is your opportunity to become involved. If you are interested in being considered for an appointment to an open state seat by the Board of Directors please complete this Candidate Information Statement.
---
Due to rain and a collapsed ceiling at Buffalo, NY's Exchange Street Amtrak station, talks have renewed about developing a modern train station in downtown Buffalo. The current station building, which is tucked under a four lane overpass, is closed as a result of the collapsed ceiling, though trains will still make stops at the Exchange Street location, but the situation highlights the need and the importance of maintaining the country's railroad infrastructure. "We are very concerned over the immediate safety implications, and the loss of passenger services to the increasingly vibrant downtown Buffalo area," said NARP's Bruce Becker, vice president of operations. Notably, over $70 million in state and federal money have has been spent to upgrade other Upstate and Western New York train stations in recent years with the exception of Buffalo's downtown station. Ridership at Exchange Street has increased more than 145% over the past ten years, with nearly 42,000 passengers in FY 2015.
Chinese investors who are eager to bring high-speed rail technology to the U.S., is interested in supporting the North American High Speed Rail Group, which has proposed a new line between Rochester and the Twin Cities in Minnesota. During an event this week, the two groups met to discuss how they could work together to create a rail ride between the two cities that would take 30 minutes over 77 miles. The North American High Speed Rail Group estimates that the project would cost $4.2 billion, and the organization is considering a route that would start near the Minneapolis-St. Paul International Airport in Bloomington, but the final stop in Rochester hasn't been determined. China Railway International has been working with the Federal Railroad Administration to bring high-speed rail to the U.S., and the groups is currently focusing its attention in Minnesota.
---
New Member Benefits For You, And New Support For Us And Our Work!
Travelers United, the only non-profit membership organization that acts as a watchdog for traveler rights, now offers free reciprocal membership to all NARP members! To check out benefits and get the low-down on your passenger rights, visit https://TravelersUnited.org/welcome-narp/
Amtrak Vacations, a premier tour operator offering first-rate travel packages combining great destinations and train travel, is now offering all NARP members a 10% discount on the rail travel portion of any package booked, along with a 5% discount on parent company Yankee Leisure Group's Unique Rail Journeys packages across Europe! Better yet, go watch a recorded webinar co-hosted by Amtrak Vacations and NARP to learn about a special offer worth up to an additional $400 off certain rail-travel packages! Click here to watch the recorded webinar, or copy and paste this URL into your web browser: https://youtu.be/uiETYMKziWA , and to learn more about Amtrak Vacations please visit http://www.amtrakvacations.com.
If you buy anything from online retailer Amazon.com, sign up for Amazon Smile so that a portion of your purchase price is donated to support NARP! The price you pay for your items does not change, but every purchase helps your Association as we do the work you want done for A Connected America! Visit http://www.narprail.org/get-involved/donate to learn more.
VSP Individual Vision Care now offers specially discounted individual and family insurance plans exclusively for NARP members that typically save hundreds of dollars on your exams, glasses and contacts. In addition, as a VSP member you -- or any family member you designate -- can also enjoy savings of up to $1,200 per hearing aid through VSP's TruHearing plan. When you sign up for a VSP plan through our website, you not only help yourself and your family with significant savings and great benefits, but you help support NARP's work as well! Click here to enroll today!
---
Leaders in Cincinnati are not only developing new passenger rail projects, such as the city's new streetcar line, but are looking at ways to renovate and reuse old railroad lines. One such effort is the development of the Wasson Way Trail, which will be a pedestrian and bicycle trail for residents. To ensure the project moves forward, the city purchased 4.1 miles of unused railroad for $11.8 million and plans to use the section as the first part of the Wasson Way Trail. The Wasson Way Trail project is planned to extend a total of 8.9 miles, and will connect eight Cincinnati neighborhoods, as well as Norwood, Fairfax and Columbia Township. City officials noted that the tracks will be removed, with construction starting in 2017, but also noted that a light rail systems is still a possibility.
Use of LA's Metro system continues to grow. According to a new report by the Los Angeles County Metropolitan Transportation Authority (Metro), 70 percent of people using the transit agency's Expo Line Extension to Santa Monica, Calif., are new riders. Of those new riders, 44 percent used to drive, while 23 percent used to take the bus according to the survey. Since the Expo Line Extension's opening in May, overall ridership on the line has grown to nearly 45,000 average weekday boardings, with about 20,000 attributed to the new Culver City to Santa Monica segment. By 2030, the light-rail line is expected to serve 64,000 average weekday riders.
Support is growing in the San Joaquin Valley in California for the expansion of the Altamont Corridor Express as traffic congestion on Highways 120 and 99 continues to grow during afternoon rush hours. Rail advocates, including the San Joaquin Regional Rail Commission, met this week to discuss the expansion of ACE, which would Stockton and San Jose, to Modesto by 2020 and Merced by 2023. However, the expansion is estimated to cost $1.2 billion, but the agency has stated that the project has support from the area's lawmakers. Sources for funding could include the state's cap-trade program, funded by businesses that produce climate-changing emissions.ACE started in 1998 with two morning and two evening trains, mainly serving Silicon Valley workers who could not afford homes in that booming region. It now has four round trips, but could reach 10 with the branch to Merced.
The federal government and state officials for Illinois have agreed upon a new deadline for $177 million that will be used for a passenger rail line from Moline to Chicago. The long-planned project was at risk of losing the federal money earlier this year because state officials had to confirm they would provide matching funds by June 30. Previosuly, Gov. Pat Quinn had committed about $45 million for the project, but Gov. Bruce Rauner put the project under review after taking office and, at that time, a timeline for the review process was not provided. With a few days left to go, the Illinois Department of Transportation told Federal Railroad Administration that the state was proceeding with the project. At that time, the state still had to get a new deadline for use of the money. That deadline has been set at Sept. 30, 2017.
---
NARP thanks those members who have sent in industry-related news stories, op-eds, editorials or letters to the editor from your communities. We include them in our social media efforts, along with the weekly Hotline. Please send your news items to Bob Brady, bbrady@xenophonstrategies.com, and we will continue to share it with the membership. We also ask members to send events that we can put on the website, here. And please follow NARP on Facebook and Twitter.
Comments