Hotline #968
Cities Look At Transit-Oriented Development; HSR in TX to Break Ground in 2017; CA Wins Lawsuit for HSR
June 17, 2016
Transit-oriented development and planning are getting a fresh look in cities around the U.S., as planners in communities large and not-so-large have started going beyond the usual textbook mix of elements to understand what really animates residents and would drive successful projects.
In Miami Beach for example, one developer that is bidding on project to bring light-rail to that city released renderings of what the system could look like with special consideration to the avid biking community in the area. The designs include sleek, modern cars that feature a mix of seating and standing room in the interior, but also include space for bike racks for commuters to store their bikes. Though this element may seem small in some regards, it's a critical and forward-thinking design that includes aspects of multi-modal transportation when commuters are looking to connect from one mode of transit to the other, seamlessly.
Utah is another example of where planners and developers are looking at the future needs of community members will be, and how multi-modal transportation will play a major role. Civic leaders and the Utah Transit Authority are looking at transit-oriented development as a major component for the future of northern Utah. Envision Utah, a public-private partnership promoting growth that considers air quality, transportation options, open space preservation, housing and infrastructure, commissioned a statewide study of more than 52,000 Utahns to learn what transportation options residents would like to see developed. Overall, more than 80 percent of respondents wanted more compact living conditions that include a greater variety of travel options with a bigger public transportation network. UTA currently has five active projects, including two in Salt Lake City, with others in Clearfield, Sandy and South Jordan. A dozen other projects are also under preliminary consideration for potential future development.
One of the most ambitious efforts unveiled so far, however, came this week as a consortium including Amtrak, real-estate developers, Drexel University, Pennsylvania's Transportation Dept. and SEPTA unveiled their $2 billion Philadelphia 30th Street Station District Plan. Planners envision 40 new acres of open space, 18 million square feet of development, a new mixed-use neighborhood and creation of an economic engine that will attract billions of dollars in private capital while generating $3.8 billion in tax revenues for Philadelphia and the commonwealth of Pennsylvania, along with 40,000 new jobs. Their hope is to bring all the parties together to come up with a single, integrated vision involving all the key stakeholders during a two-year planning process. For its part Amtrak will start looking for partners later this year to develop property next to the 30th Street Station, plus potentially coming up with ideas for station improvements that could include retail offerings. "Philadelphia's iconic 30th Street Station is poised to anchor what could be a transformative new neighborhood built around transportation and the Schuylkill River waterfront," said Amtrak Board Chairman Tony Coscia.
Though these projects may not carry the same headline value as a high-speed rail project, they are examples of what developers and city planners, as well as federal officials, must consider when they are looking at the future of the country's rail infrastructure, and how it should connect to other modes of transit - whether it's another rail system, bus service, airports, or even bicycles. This type of thinking and planning will help strengthen our national rail network, and support NARP's vision of "A Connected America" that maximizes utility and connection possibilities through the country.
---
Summer By Rail
On Monday, June 20th, George Washington University student Elena Studier will complete her once in a lifetime summer internship - a 10,000-mile journey by rail that took her from East Coast to West, and back again. Elena, along with her bike Stevie, started the trip on May 15th in New York, and will have spent nearly 40 days in 20 cities with a focus on capturing and sharing her perspective on rail travel between cities and America's landmarks, as well as how funding for rail infrastructures and services like Amtrak, are critical to the country's economic vitality. The last leg of the internship will see Elena arriving at D.C.'s Union Station at 10am on Monday.
Along the way, Elena has been meeting with transportation officials, Mayors and community leaders, while sharing stories from the communities she visits on how they use and view public transportation options in their respective areas, including major cities like Los Angeles, Seattle, Dallas, Chicago and many more.
Through her exploration, key elements of connectivity by rail andsupport for rail in various communities, will be shared to her audience via social media channels on Twitter (https://twitter.com/RailPassengers) and Instagram (www.instagram.com/railpassengers) at the handle @RailPassengers, and her blog at www.summerbyrail.com. People interested in Elena's travels can also follow the hashtags #ElenaAndStevie and #GetRail for regular updates. Follow along and cheer her on!
For a recent update on Elena's travels and insights, you can read about her experience in the Dallas/ Fort Worth area by visiting The Fort Worth Star-Telegram, or her experience in Burbank, CA by visiting MyBurbank.com.
If you are in the greater DC area on Monday morning, June 20, you're invited to welcome Elena back at an event at Washington Union Station. Details are here.
---
The high-speed rail line connecting Houston and Dallas is on track to break ground in 2017, project developers Texas Central Partners announced during an update meeting. Building and developing the line should generate about 10,000 jobs per year, and once the train is operating it's expected to provide 1,000 new jobs. Out of 97 city pairs studied across the nation, Houston and Dallas came out on top as the most feasible place for the high-speed rail project to be deployed. Texas Central believes the Houston/Dallas city pair is the best option for the train because there is growth in both cities and demand going in both directions. The high-speed rail will be beneficial to the nearly 50,000 Texans who travel back and forth between Houston and Dallas/Fort Worth more than once a week.
Under guidance from the Federal Transit Administration, Hampton Roads Transit will study two potential light-rail routes to Norfolk Naval Station - a western route and an eastern route. The western route, potentially more difficult to complete, would begin near Eastern Virginia Medical School and go through Ghent and Old Dominion University to the naval station. It would serve existing high-density housing and commercial areas. The other route would start near the eastern end of the current line and go through Military Circle, then to Norfolk International Airport and eventually the naval station. It's a departure from previous plans to pick the preferred route and move forward with just one environmental study.
---
As part of NARP's Summer by Rail project, NARP intern Elena Studier met with Texas Central Railroad CEO Tim Keith, to talk about the project's scope and transportation and economic impact for Dallas and Houston. They were joined by NARP Chairman Peter LeCody and Vice President Sean Jeans-Gail, and were shown around TCR's new offices in Dallas, which includes a rooftop view of the future station site.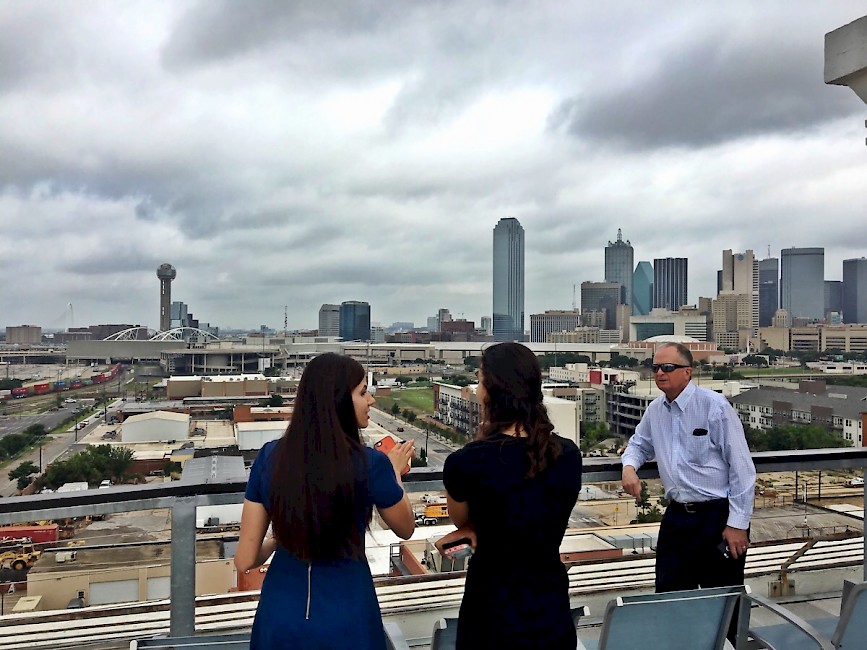 ---
The Federal Transit Administration and the National Park Service released an environmental impact statement that helps to clear the way for a long-awaited new Metro station in the Potomac Yard neighborhood in Alexandria, VA, which would run as part of the Washington Metropolitan Area Transit Authority (WMATA). Community officials say the new station is needed for increasing transportation choices and attracting transit-oriented development. In addition to bolstering mass transit, the station is viewed as a crucial part of the city's vision for Potomac Yard, which is being transformed into an urban center around D.C. It is expected to generate billions of dollars in new private-sector investment and accelerate development in an area where growth has taken off with the construction of hundreds of rowhouses and apartments. Development of the new Metro station is expected to cost $268 million, with an opening in 2020.
---
There are still openings for state representatives on the NARP Council of Representatives in several states. Check out the full list of current vacancies here.
Of particular note, there are multiple vacancies in the states of California, Ohio and Texas. If you live in these states and want to become more active in NARP's work, this is your opportunity to become involved. If you are interested in being considered for an appointment to an open state seat by the Board of Directors please complete this Candidate Information Statement.
---
California's high-speed rail project won a lawsuit in the Sacramento County Superior Court that will allow the project to move forward with planning and financing. With the ruling, California's high-speed rail project and the completion date for the first 29-mile leg was pushed back 17 months to August 2019, with another $63 million added to support the project's costs. Landowners in the Central Valley sought to block the controversial project there, but a Sacramento County Superior Court judge ruled in March that plans for the system do not violate promises made to voters who approved selling nearly $10 billion in bonds for the project. The lawsuit had tied up access to financing and officials said nearly 500 appraisals for land along the route became outdated during that time.
The Southern Rail Commission issued a forceful statement correcting recent misleading and erroneous information circulating regarding Corridor Capital, which has been falsely described by some Alabama media outlets as a "passenger rail operator."
"Recent news reports about a passenger rail provider locating in Montgomery, Alabama and starting multiple passenger services across the state have created serious concern among members of the Southern Rail Commission, and those who are advancing the efforts of passenger rail," stated the Commission. "These reports imply that the Southern Rail Commission was the source for information presented in these reports, and implied that the SRC is a supporter of these efforts. These reports were erroneous and misleading, and do not represent the official position of the Southern Rail Commission. The SRC does not currently have any business with Corridor Capital, nor pending business."
"In fact," the statement goes on to say, "the SRC had one ten-minute presentation at a public meeting last year from Corridor Capital. No action was taken following their presentation, nor is any action expected. The SRC had no conversations or negotiations with them prior to, nor since, that time. In fact, in direct contradiction of comments made in the recent press stories about Corridor Capital "having existing operations for many years" in the Midwest and Northeast, their representative stated at the SRC meeting that they 'do not operate any train services at this time.'"
The SRC is a three-state rail compact, backed by the state governments of Louisiana, Mississippi and Alabama. The Commission is the lead actor in the campaign to restore passenger rail service to the Gulf Coast, and have worked with NARP closely in educating and energizing local politicians and passengers. The SRC emphasized that it has a strong partnership with Amtrak, which has played a key role in the conversations led by the SRC to expand the passenger rail network throughout the south.
You can read the full statement here.
With Sound Transit preparing a new $54 billion ballot that proposes the expansion of the light-rail, commuter trains and bus services in the greater Seattle area, new CEO Peter Rogoff suggests that suburban taxpayers help cover half of the $1.7 billion cost for a second downtown Seattle transit tunnel. Funding proposals have evolved, from billing only the Seattle area, to making each taxing area pay based on its tax revenues — to guessing where the future downtown riders will come from. Sound Transit is following the example of similar connector plans in Los Angeles and Toronto, to treat a downtown section as a regional asset that will share the cost of development with suburban areas.
---
New Member Benefits For You, And New Support For Us And Our Work!
Travelers United, the only non-profit membership organization that acts as a watchdog for traveler rights, now offers free reciprocal membership to all NARP members! To check out benefits and get the low-down on your passenger rights, visit TravelersUnited/Membership .
Amtrak Vacations, a premier tour operator offering first-rate travel packages combining great destinations and train travel, is now offering all NARP members a 10% discount on the rail travel portion of any package booked, along with a 5% discount on parent company Yankee Leisure Group's Unique Rail Journeys packages across Europe! Better yet, go watch a recorded webinar co-hosted by Amtrak Vacations and NARP to learn about a special offer worth up to an additional $400 off certain rail-travel packages! Click here to watch the recorded webinar, or copy and paste this URL into your web browser: https://youtu.be/uiETYMKziWA , and to learn more about Amtrak Vacations please visit http://www.amtrakvacations.com .
If you buy anything from online retailer Amazon.com, sign up for Amazon Smile so that a portion of your purchase price is donated to support NARP! The price you pay for your items does not change, but every purchase helps your Association as we do the work you want done for A Connected America! Visit http://www.narprail.org/get-involved/donate to learn more.
VSP Individual Vision Care now offers specially discounted individual and family insurance plans exclusively for NARP members that typically save hundreds of dollars on your exams, glasses and contacts. In addition, as a VSP member you -- or any family member you designate -- can also enjoy savings of up to $1,200 per hearing aid through VSP's TruHearing plan. When you sign up for a VSP plan through our website, you not only help yourself and your family with significant savings and great benefits, but you help support NARP's work as well! Click here to enroll today!
---
To improve safety at railroad crossing throughout New York, Governor Andrew Cuomo and other legislative leaders passed an agreement that would require frequent inspections of traffic control devices at highway-rail crossings. The announcement comes after a series of deadly crashes at rail crossings with passenger trains in New York City suburbs, including an incident in February 2015 when SUV drove onto the tracks in Valhalla, Westchester County, and was hit by a Metro-North Railroad train. The SUV's driver and five train passengers died. The new legislation will require every railroad company, municipality and state agency to conduct inspections of traffic control devices at a minimum of every other year. The state also plans to update laws to align with federal reporting requirements.
Virginia passenger rail projects are set to move ahead with $758 million in new funding following approval of the Six-Year Improvement Program by Virginia's Commonwealth Transportation Board. The funds will support service expansions and infrastructure improvements that benefit the continued operation of Amtrak's five Virginia-based regional trains, which operate from Norfolk, Newport News and Richmond. The funding also will pay for triple or quadruple tracking for the Northern Virginia-to-Richmond portion of the corridor, which will improve reliability, capacity and service. The funding for this corridor also will support construction of a new multimodal transportation center in Newport News. The largest portion of that funding, $660 million, is set aside for the Hampton Roads-Richmond-Northern Virginia rail corridor.
---
Make plans now to attend NARP's Fall 2016 Advocacy Symposium and Membership Meeting, being held in Denver, CO, Friday, October 14 - Sunday, October 16. Preliminary information and agenda for this exciting event is now posted on the event webpage and will be updated regularly as the planning process continues.
Discounted group rate hotel rooms at the host hotel, Embassy Suites Denver Downtown, are now available. Click Here for a direct link to NARP's group reservation page.
---
A new Amtrak station will will provide riders in Lynchburg, VA easier access in and out the city when service begins in the fall of 2017 out of Roanoke. Currently, a connector bus service runs from New River Valley, Roanoke and Bedford to the Lynchburg Amtrak station on Kemper Street. Following the opening of the Roanoke station, Lynchburg will continue to be served by the Northeast Regional and Crescent trains but will gain a new morning southbound train and a new afternoon northbound train. According to Virginia Department of Rail and Public Transportation, next year riders will have six times a day to board an Amtrak train in Lynchburg compared with the current four.
Following the opening of the Expo Line extension from to Santa Monica, ridership for LA's Metro grew in May. Overall, Metro provided 1.16 million rides on the Expo Line in May, which equates to a 45 percent increase from 2015. Last May, ridership fell by four percent when compared to 2014. The Expo Line extension to Santa Monica was opened to the public May 20. Though ridership was up, there are still concerns of a lack of parking at some stations, as well as a concern among some Expo Line riders that the trains move too slowly as they approach downtown Los Angeles.
A DAILY Cardinal? It could happen. NARP members have been working in their communities for some time to make the three-times-weekly Chicago-New York service a daily train, and the message is starting to get through. There is a lot of work behind the scenes in state and federal offices that could well make a difference, and NARP's radio campaign of public service announcements -- a 100% grassroots, volunteer effort -- is making great strides. More than 100 radio stations along the Cardinal's route have received our professionally produced radio ads, and many members report hearing those spots on the radio. Better yet, one of the contacts our members made with a radio station to get the ads on the air resulted in a nearly 30-minute radio appearance by our NARP member! Great things happen when you organize and make your voice heard through NARP! If you want more information on the campaign, form letters, materials or to listen to the spots, visit the Daily Cardinal Action Campaign page to learn more.
---
NARP thanks those members who have sent in industry-related news stories, op-eds, editorials or letters to the editor from your communities. We include them in our social media efforts, along with the weekly Hotline. Please send your news items to Bob Brady, bbrady@xenophonstrategies.com, and we will continue to share it with the membership. We also ask members to send events that we can put on the website, here. And please follow NARP on Facebook and Twitter.
Comments