Hotline #1,041
NARP Petitions Supreme Court for Better On-Time Performance; Westmoreland Approved by Senate for Amtrak Board; OKC to South Texas PAX Line Possible; BART Trains Fail Inspection
November 10, 2017
We Need Your 'Nose For News'! When you see rail-related news stories, op-eds, editorials, or letters to the editor in your communities, send them along to us! We include them in our social media efforts, along with the weekly Hotline. Send your news items to Bob Brady, bbrady@xenophonstrategies.com, and we will continue to share it with the membership. Are you holding a rally, a community meeting, or another kind of rail-advocacy event? We can help spread the word if you send them to us. We can put on the website here. And please follow NARP on Facebook and Twitter.
---
Rail Passengers Petition Supreme Court to Review Case Involving On-Time Performance Standards
The Rail Passengers Association petitioned the Supreme Court to review a case that would pave the way for enforcement of on-time performance standards for passenger rail. Without these defined standards, freight is systematically prioritized over passenger trains, leading to chronic delays for long distance riders. The petition, filed today by the Environmental Law & Policy Center (ELPC) on behalf of NARP and other passenger advocacy organizations, seeks to overturn a lower court's decision that flies in the face of the "Passenger Rail Investment and Improvement Act" (PRIIA), a law passed by Congress in 2008 that included provisions to make sure trains run on time.
"When the DC Circuit nullified Section 207 last year, it took away FRA's power to develop on-time performance standards. Then the Eighth Circuit this summer interpreted Section 213 in a way that eviscerated the power of the Surface Transportation Board, which was the only agency left to carry out Congress' assignment to improve on-time performance. The two courts' moves together have left no agency remaining to fulfill Congress' statutory mandate in PRIIA to enforce those standards," said Jim Mathews, President of the Rail Passengers Association. "That gap thwarts Congress' core intent in PRIIA, and leaves passengers without any recourse."
ELPC's "petition for a writ of certiorari" asks the United States Supreme Court to review the July 2017 judgment by an Eighth Circuit court panel. In that finding, the Circuit court rejected the Surface Transportation Board's (STB) interpretation of Section 213 of PRIIA which created two separate "triggers," each of which require the STB to investigate sub-standard on-time performance. Even though Congress plainly gave STB the authority to regulate these specific aspects of on-time performance, the freight railroads objected and sought judicial review. The Circuit court agreed. Oddly, in 2015, the Association of American Railroads--the trade group for freight rail carriers in North America--asked the STB to create the regulation that defined on-time performance in the first place. It was only when STB sided with passengers that the group challenged STB's authority to regulate the issue.
"This fight has gone on long enough," said Mathews. "For decades, rail passengers have been left waiting for freight trains to clear the rails. Even acts of Congress haven't been able to budge them out of the way. We need the courts to now recognize and allow Congress' goal to be carried out. The law creating Amtrak in the early 1970s codified a deal these railroads made with the American taxpayer: we'll relieve you of your common-carrier responsibility for passenger service, and in exchange you'll ensure those passenger trains get where they need to go on time. It has been a battle ever since."
The ELPC has been a strong partner in this fight, and the Rail Passengers Association greatly appreciates their continued support as we pursue passengers' rights to efficient travel.
---
Over 275 passenger rail supporters gathered in Chicago last week for RailNation Chicago, NARP's largest-ever advocacy event! On Thursday and Friday, attendees heard from a variety of noteworthy speakers and presenters, including Amtrak's President/CEO Richard Anderson; the Chair of the Board of Transportation for America John Robert Smith and former FRA Administrator Joseph Szabo. On Saturday participants enjoyed a number of special offerings, including exclusive dome car excursions to Milwaukee; tours of Union Station and an Amtrak equipment display which featured a new Viewliner II diner and a refurbished Amfleet I coach.
Saturday evening's dinner celebrated NARP's 50th Anniversary and the program, led by NARP Chair Peter LeCody, featured a video interview with NARP founder Anthony Haswell. In addition, NARP President Emeritus Ross Capon presented the inaugural 'Ross Capon Passenger Citizenship Awards' to Bruce Ashton of San Antonio, TX., Susan Hadrous of Sunrise, FL and Gwynne Jamieson of Alpine, TX, for demonstrating exceptional leadership, initiative and passion in citizen advocacy.
The presentations utilized by the program's speakers are now available on the NARP website and video of the event's general sessions (including Richard Anderson's talk) will be released soon.
Caltrans announced that Sumitomo Corporation of Americas (Sumitomo) and Siemens will be fulfilling a $371-million, multi-state contract for new railcars. The contract will supply 137 single-level passenger railcars, 49 to Caltrans and 88 to the Illinois Department of Transportation (IDOT).
"This contract is moving full-speed ahead and that is good news for Californians, both in terms of job creation and better passenger rail service," said Malcolm Dougherty, Director at Caltrans. "Caltrans and IDOT are ready for these new railcars to provide additional seating capacity for our busy trains and support planned improvements to passenger service."
Overall, the production of these new rail cars will support hundreds of skilled and high-wage manufacturing jobs in California. They are also 100 percent "Buy America" from suppliers in California and across the country. Each car will be built at the Siemens rail manufacturing hub in Sacramento. The plant, which has been in operation for more than 30 years
The Senate Commerce, Science and Transportation Committee approved several of President Trump's picks to head different federal transit agencies. Notably, the Committee approved former Rep. Lynn Westmoreland (R-Ga.) to serve on Amtrak's Board of Directors for five years. As a member of Congress, many passenger groups grew concerned over Westmoreland's voting record. He has voted at least twice to fully defund Amtrak—once for a failed amendment to the American Recovery and Reinvestment Act of 2009, and once again in 2015. Overall, he voted for 12 amendments in the 113th and 114th Congress that the Rail Passengers Association determined to be harmful to either Amtrak or high-speed rail.
Complicating matters, Westmoreland also voted to fully fund Amtrak in 2008, and his deputy chief of staff, Brian Robinson, issued a positive statement to the Clayton News-Daily about the economic impact: "There probably is a turning of the tide. The congressman does see, with the high price of fuel, that trains are always going to be a part of how we get people from point A to point B, and freight, too, for that matter. But maybe it'll be an even bigger part than we had imagined."
During his confirmation hearing, he told the Committee that he recognizes the importance of federal funding for the passenger rail system. While his confirmation process assuaged some concerns, the Rail Passengers Association is still working to meet directly with Mr. Westmoreland to talk about the absolute need for a National Network.
Others approved by the Senate Committee include:
Raymond Martinez, who will serve as administrator of the Federal Motor Carrier Safety Administration, which is responsible for regulating the trucking industry and will soon be tasked with rolling out a new rule requiring electronic logging devices for truckers.

Bruce Landsberg, whom Trump nominated to a five-year term on the National Transportation Safety Board.

Diana Furchtgott-Roth, who will serve as assistant secretary of research and technology at the Transportation Department.
These nominations will now move to the floor for approval.
The Senate supported President Trump's nomination of Derek Kan as the undersecretary at the U.S. Department of Transportation. Kan has previous experience with passenger rail as a member of Amtrak's board. He also served as a general manager for Lyft, and as a policy adviser to Senate Majority Leader Mitch McConnell (R-Ky.). Some New York and New Jersey Democrats opposed and delayed Kan's nomination in an effort to press the Administration to support the Gateway Program in the NEC. Ultimately, the Senate voted 87-9 to invoke cloture and limit debate on his nomination, which means he is likely to be confirmed in a final vote.
"This non-controversial, well-qualified nominee has been languishing in the Senate for far too long. It's truly unfortunate that we have to go through the cloture process on this particular nominee, who is well known to many of us here due to his previous work as a staffer in the Senate," said Sen. John Thune (R-S.D.), chairman of the Commerce, Science and Transportation Committee.
The possibility of a passenger rail line between Oklahoma City and South Texas is one step closer to reality following the findings of a federally funded study. The study was a service-level environmental impact statement (EIS) prepared by the Texas Department of Transportation (TxDOT), in cooperation with the Oklahoma Department of Transportation, and the Federal Railroad Administration (FRA). The report found that the route along the I-35 corridor is possible, and it will allow for the continued analysis and development of the plan. The proposed study, which cost $7 million, concerns a route that would span 850 miles and be broken up into three segments. The segments include Oklahoma City to Dallas-Fort Worth; Dallas-Fort Worth to San Antonio; and San Antonio to South Texas. Although the plan allows for the project to continue further development, funding of the passenger line has become a major concern.
"While the release of the Tier I Environmental Impact Statement (EIS) is welcome news, funding of the next step, a project-level, soup-to-nuts determination before building the line is very problematic," said Texas Rail Advocates President Peter LeCody in a press release. "The Texas Department of Transportation has no funds to move this sorely needed rail corridor project forward. The state legislature has deemed not to invest a single penny in moving people by passenger rail. With more and more people moving to Texas and traveling in the I-35 corridor the future needs of transportation by rail must be addressed in the next session."
Following phases of public input and environmental considerations, the latest phase of the study determined passenger rail service up to 220 mph between Dallas-Fort Worth and San Antonio is feasible. It also determined passenger rail service from San Antonio through Laredo to Monterrey, Mexico could be feasible. The study also revealed the possibility of having passenger rail service up to 125 mph from San Antonio to the Rio Grande Valley and improved Amtrak-type service between Dallas-Fort Worth and Oklahoma City. The next step would be a project-level environmental study to determine actual routes and environmental impacts of the service before construction and start of service.
---
Want a Chance to Win 10,000 Amtrak Guest Rewards® Points?: Send Us Your Best Photos
The Rail Passengers Association is asking passengers like you to be a part of our new identity. A great way to do this is through our new social media contest that will give nine lucky passengers 10,000 Amtrak Guest Rewards ® Points, while dozens more will win other prizes.
Here are a few of the great entries we have seen so far:
1.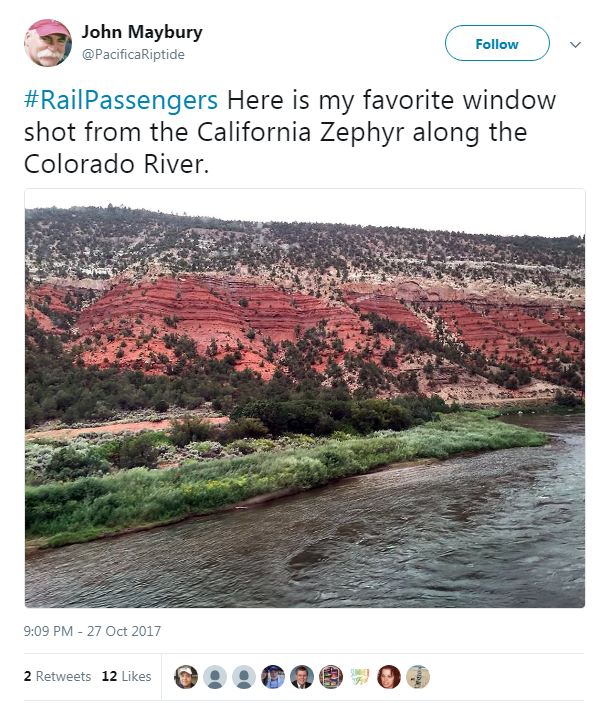 2.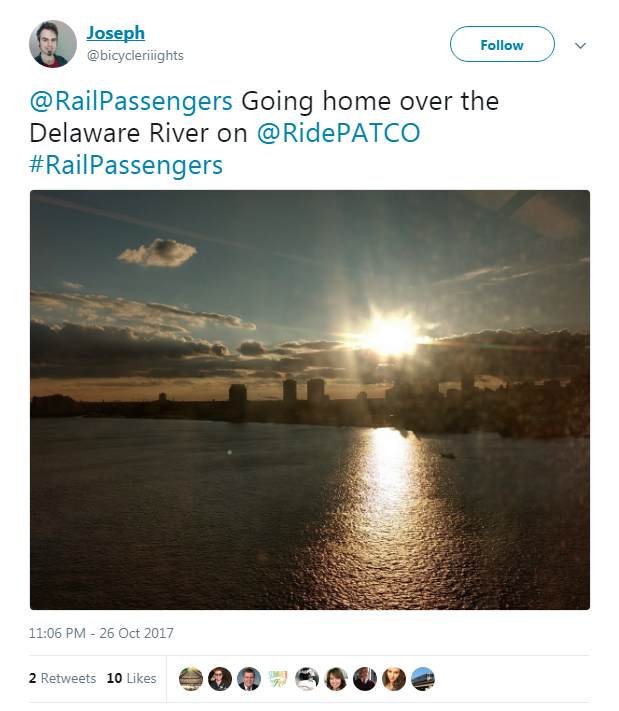 3.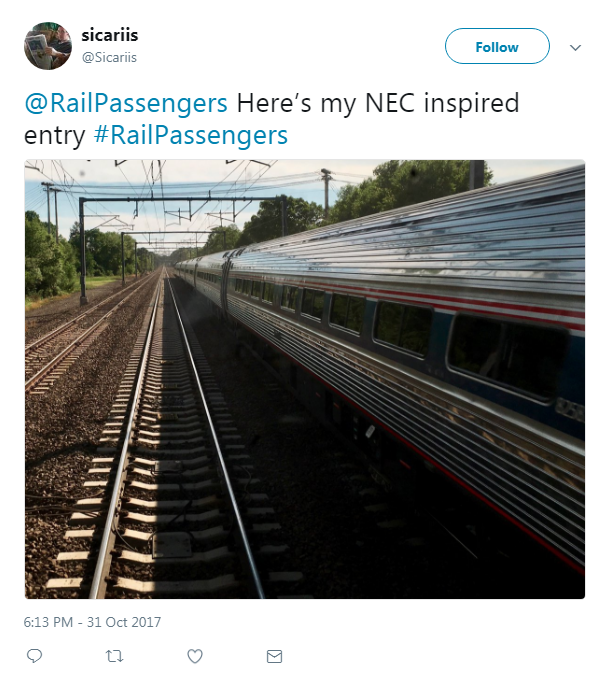 To enter the contest, we are asking you, along with your friends and family, to share your favorite train-view photos via Instagram, Facebook or Twitter. The pictures should be your own, and should depict what you see outside your train window. Whether it's a photo of countryside, oceans, forests or cities, we want to see what you see. Rail Passengers' staff will be evaluating the photos, and selected images will be used as part of the Rail Passengers Association's new visual identity on the web, and in print.
The best selections will be named grand prize winners and participants will receive 10,000 Amtrak Guest Rewards ® points. We will be offering a variety of rewards for contest submissions, including new Rail Passengers gear such as totes, umbrellas or luggage tags for 90 contest winners.
There is a rolling deadline for submissions, and the contest will end once we have enough winners from each of our nine regions: Northeast, Northwest, Midwest, South Central, Mountains & Plains, Mid-Atlantic, Southeast, South, and Southwest. Submitting photos for consideration is easy. Just share them on one of our social media networks and be sure to use the hashtag #RailPassengers and @RailPassengers. If you don't, we won't be able to find the submissions!
For additional information on how to enter, as well as guidelines for photo submissions, please visit https://www.narprail.org/news/blog/contest-your-view-from-the-train/
(Please remember, we can only use photo entries with permission. The best way to make sure you have the right, is to share photos you took personally. Please don't just grab a picture off Google!)
---
The Vermont Rail Action Network (VRAN) held its Annual Meeting and Awards Dinner in Rutland on Wednesday evening. Over 140 rail advocates from across Vermont and beyond gathered to celebrate the ongoing progress to expand passenger services around the Green Mountain State. Vermont Governor Phil Scott (R) spoke to the importance of freight and passenger rail to the state's economy and he pledged his administration's support for the impending extension of Amtrak's Ethan Allen Express to Burlington. NARP's Jim Mathews was the evening's keynote speaker and he applauded VRAN for being a highly-effective coalition of business, civic and citizen interests, all focused on the goal of improving transportation.
New trains for the Bay Area Rapid Transit (BART) system failed a safety inspection last week, which could postpone commencement of service in the region. The California Public Utilities Commission (CPUC), which regulates transit operators across the state, said in a letter that BART can't use the new cars until it corrects the problems uncovered during a Nov. 3 inspection. Problems stemmed from the agency 10-car train that was being tested and failed to recognize all the cars in the line-up. During testing it only recognized three of the cars on the train. At the same time, the train operator was unable to open the doors at platform stops during testing. The doors didn't open on seven of the cars in the 10-car train.
"The implementation of BART's new fleet has been a long time coming, and it is unfortunate that the arrival of these trains could be pushed back even further," said Jim Mathews, President and CEO of the Rail Passengers Association. "BART commuters have been looking forward to the new fleet for some time, and we hope that BART officials will be able to correct the problems, and get riders the service they need."
The agency is replacing its current aging fleet, with 775 new trains that are designed to increase capacity and room for passengers that currently ride on over-crowded cars. The replacement project costs $2.6 billion, but has seen several delays over the years. BART engineers and staff from the train manufacturer, Bombardier, Inc., are currently working to identify the problem with the trains. Depending on how quickly they can correct the issues, BART officials hope trains will being running around the Thanksgiving holiday.
When the benefits of passenger rail are reviewed and discussed, the opportunity to reduce traffic congestion across the country is a major topic. The country's congested roads and highways are in higher demand than ever, and transferring drivers to passenger rail services can help reduce wasted time stuck in traffic jams and harmful environmental pollutants, while also reducing the safety risks associated with driving. For example, Texas roads are so congested and overpopulated, that the state has seen a fatal accident every day for the last 17 years, or since November 7, 2000.
In an effort to end to the streak, the Texas Department of Transportation launched a social media campaign with the hashtag #EndTheStreakTX. The campaign, which has received support from Texas Central Partners, the private company behind the HSR line from Dallas to Houston, encourages drivers to focus on safety.
---
#Rally4Trains
If you haven't already, check out the "Rally For Trains" economic report to find an array of stats and data that can bolster advocacy efforts for passenger rail in America. The report details how cutting funding for trains will hurt America, especially in rural areas. It shows why expanding funding for passenger rail will be a boon for our national and local economies. Feel free to pick out data and share it on social media with the #rallyfortrains hashtag.
Sharing photos at your station or in your town on Facebook or Instagram is another easy and free way to keep the pressure on Congress to ask for funding for rail passengers! At the end of your post, insert #Rally4Trains, just as you see it spelled here. That ensures that everyone's messages and pictures are gathered in one place for everyone to see online!
As always, you can call Congress at: 202-224-2131, and tell them you support funding rail in America. That number will allow you to connect with the people you elected to represent you in Washington. Or, email them by visiting the www.townswithouttrains.com website, and clicking the "Contact Congress" button.
[The Towns Without Trains and #Rally4Trains project has been made possible through generous bequests from the estates of George McCallum, Edmund Fritz, and Lewis Hoppe, as well as financial contributions from NARP members all across America who make our work possible.]
---
In Southern California, Metrolink is offering special holiday trips to view the Festival of Lights, which was called "The Best Public Lights Display in the Nation" by USA Today. The event is at Riverside's Mission Inn Hotel and Spa from train stops throughout Los Angeles, Orange and Riverside counties. Those eager to attend the festival can take Metrolink on November 24, 25 and December 1, 2, 8, 9, 15, 16 to check out about 4.5 million lights and firework displays. Additionally, the Festival of Lights includes more than 400 animated figures including angels, elves and Dickens carolers, appearances by Santa Claus, the world's largest man-made mistletoe, horse-drawn carriage rides, elaborately decorated Christmas trees in the lobby and throughout the hotel and delectable holiday confections.
Following the September 2016, NJ Transit crash at its Hoboken Terminal, 44 NJ Transit train engineers were confirmed to have sleep apnea and required treatment. The transit agency made the determination after revising its screening process for sleep apnea, which can cause irregular sleep patterns and severe drowsiness when awake. Overall, the agency tested 373 train engineers and had to take 57 off duty due to each of them showing sleep apnea symptoms. Three of those engineers remain out of service. The 13 others were found to not have sleep disorders.
"The new process for sleep apnea screening is all about safety - safety for passengers and employees of NJ Transit," said Jim Mathews, President and CEO of the Rail Passengers Association. "These are important steps that NJ Transit is taking to ensure that people can rely on train engineers to get them where they need to go safely. We are glad that the process is working and the engineers are getting the treatment they need."
NJ Transit started testing train operators late last year after officials learned that the engineer who was operating the train that crashed at the Hoboken Terminal in September 2016 suffered from sleep apnea. The train, which was supposed to be traveling at 10 mph into the station, accelerated to more than twice the limit before slamming into a barrier. The crash injured several and killed a woman waiting on the platform.
---
Newest Addition to the Team
We're excited to announce that there's a new face here at NARP headquarters, and a new voice you'll hear on the phone: we warmly welcome Samantha Brown as our new Office Manager!
Samantha is a native Washingtonian and a lifetime Washington Metro commuter. She attended Duke Ellington School of the Arts' music program, with a concentration in voice. She attended the Hartt School of Music at the University of Hartford ('03), and received her Bachelor of Music. She is thrilled to start at NARP, bolstering her professional career in customer service after a decade spent in the banking industry.
---
The Federal Transit Administration (FTA) said that a concrete wall that has been proposed to separate freight and light-rail trains along a 1.4-mile stretch of the 14.5-mile Southwest light-rail line will "adversely affect" a historic rail district in Minneapolis. The 10-foot high wall was proposed by BNSF Railway to separate freight and passenger rail, while also serving as a "physical and visual barrier" between freight track and the historic rail yards. The wall would be built within the St. Paul, Minneapolis & Manitoba Railroad/Great Northern Railway Historic District, but the FTA said that the will would "adversely affect" the historic district because building it would involve widening, "the historic cut, removal of several historic retaining walls, replacement of historic stone and concrete walls and earthen embankment, changing its character."
If the Met Council wants to move forward with building the $1.9 billion Southwest line, the organization will have to work with MnDOT to develop a new plan for the wall - one that will mitigate the wall's impact on the surrounding historic property. The Minnesota Historic Preservation Office, the city of Minneapolis and its park board, and Hennepin County are expected to contribute to the plan and offer suggestions on its design.
---
Upcoming Regional NARP and State Passengers Association Member Meetings & Events
Please contact Bruce Becker to have a local, state or regional meeting added to the NARP calendar of upcoming events!
---
Based on Amtrak's 2017 customer satisfaction survey, the top-rated Amtrak station is in downtown Cary, NC. The station is said to have the best "overall station experience" with a score of 97 percent. The cary station outscored more than 450 other Amtrak stations across the country, including the Salisbury station, which ranked fourth.
For the survey, Amtrak customers were asked to judge their station based on several criteria, including cleanliness, safety, clarity of signs, friendliness of station workers and ease in boarding trains. The Cary station served 85,000 passengers in 2016, and serves eight trains a day, including the Piedmont, the Carolinian and the Silver Star.
If you live in D.C. or Maryland and plan to take the Purple Line once it opens, now is your opportunity to voice your thoughts on how the line should connect to other stations. The Washington Metropolitan Area Transit Authority (WMATA) is asking for rider feedback on connecting the Purple Line to stations at Bethesda and Silver Spring in Maryland. The transit agency released multiple layouts and designs for connecting the stations, and riders are able to review and comment. Plans include:
Bethesda: An underground Metro station to be connected with the Purple Line station, which will sit just below street level, via three elevators next to the intersection of Wisconsin Avenue and Elm Street. A staircase would be built as well. Metro riders also will be able to access the elevators at street level.

Silver Spring: The Purple Line platform would connect with the above-ground Metro station via a new elevated walkway connected to the upper level of the Silver Spring Transit Center, a bus depot that sits between the Purple Line's planned route and the Metrorail tracks. The elevated walkway would be covered with a canopy structure and include a set of escalators and a connection to the MARC train platform, which is next to the Metrorail tracks.
Metro is asking riders for feedback through 5 p.m. on December 15 using the following online survey. Metro is scheduled to host an open house on December 5 at 5:30 p.m. at its headquarters at 600 Fifth St. NW in Washington, D.C., to discuss the planned connections. Construction on the Purple Line began in August and is scheduled to be completed in 2022. Once built, it will stretch from Bethesda to New Carrollton in Prince George's County and include 21 stations.
---
In celebration of the return of passenger service to Roanoke, VA, the Virginia Musuem of Transportation is offering a series of private railcar excursions between Washington, DC and Roanoke this weekend, November 10 - 13. These trips will use a luxurious dome car and feature full meal service, beer and wine. Limited space is still available! Proceeds will support historic steam locomotive #611 winter's maintenance. More information here!
---
The Washington State Department of Transportation will be celebrating the Grand Opening of the Tacoma Dome Station and and Tacoma Trestle, which will host the Amtrak Cascades rail line. The celebration will occur at 422 E 25 Street, Tacoma WA, in the new station at Freighthouse Square from 2pm to 3pm on December 15. Tacoma will welcome new environmental friendly locomotives and decreased delays as rerouting trains to Point Defiance Bypass will help alleviate congestion and time spent on the tracks. If you're interested in attending, RSVP with "December 15 event" in the subject line to Dopitalj@wsdot.wa.gov. If you're going to attend the event, expect there to be a limited amount of parking at the Tacoma Dome. However, there is plenty of parking within downtown Tacoma with access to a free streetcar that can take you directly to the celebration!
---
Nominations Now Open For The 2018 Election Of Council Of Representative Members
NARP is inviting all members in good standing to consider running for seats on the Council of Representatives, the Association's volunteer governing body. The next election for seats on Council will occur in January 2018, for a two-year term starting March 1, 2018. Any NARP member, who has paid dues for at least one year, is at least 18-years of age and is a U.S. resident is eligible to run.
The Council consists of 112 elected state representatives. The number of representatives per state is determined by an equally weighted ratio of the NARP members in a given state and the state's number of U.S. Representatives. Every state has at last one Council Representative. The certified number of Council seats to be elected, per state, in January 2018 can be viewed here.
The Council of Representatives represents the overall NARP membership in setting and approving the overall policy and direction for the Association. The Council elects the Officers and Board of Directors of the Association, in addition to up to 10 'At-Large' members of the Council. Serving on the Council is a great opportunity to collaborate with others who have a common interest in actively improving passenger rail service across the country. Council members are expected to encourage activities at the grassroots level to advance the Association's goals and represent local needs, issues and activities at the national level.
The Council meets in person twice per year; in the spring in Washington, D.C., and in the fall at varied locations across the country. Council members are responsible for their own travel and meeting expenses to attend these gatherings and they may be able to apply these expenses on their federal tax returns.
Members interested in running for a seat on the Council must complete and submit a Candidate Information Statement to the Candidate Certification Committee for review and qualification by 11:59 p.m. local time on December 1, 2017. The Candidate Information Statement is also available by requesting a printed copy from the NARP office. Complete information on serving on the Council of Representatives with detailed specifications on the election procedures can be found on the NARP website under 'Join the Council'
NARP is only as strong as the leaders who step up and share their time and talents in working towards our collective goals. Please consider becoming one of these leaders and help make a difference in the future.
---
Comments