Happening Now
Viewliner Sleepers Debut On Silvers
By Rail Passengers Staff
After a lengthy and uncertain wait Viewliner II sleepers finally made their revenue-service debut last week, Amtrak reports, with four cars running on the Silver Meteor and Silver Star as of December 1.
Rail Passengers CEO Jim Mathews and then-Chair Peter LeCody toured the new cars a little more than a year ago at Union Station in Washington, DC. At the time, Amtrak's Executive VP and Chief Marketing and Revenue Officer Roger Harris told us the expectation would be for these new sleepers to begin rolling out on the Silvers first and then gradually enter service on other routes.
As a result, the cars that entered service last week will be part of a mixed consist of newer and older equipment – each Silver consist, for now, will have one of the new Viewliners until next year when more Viewliners become available to join the fleet.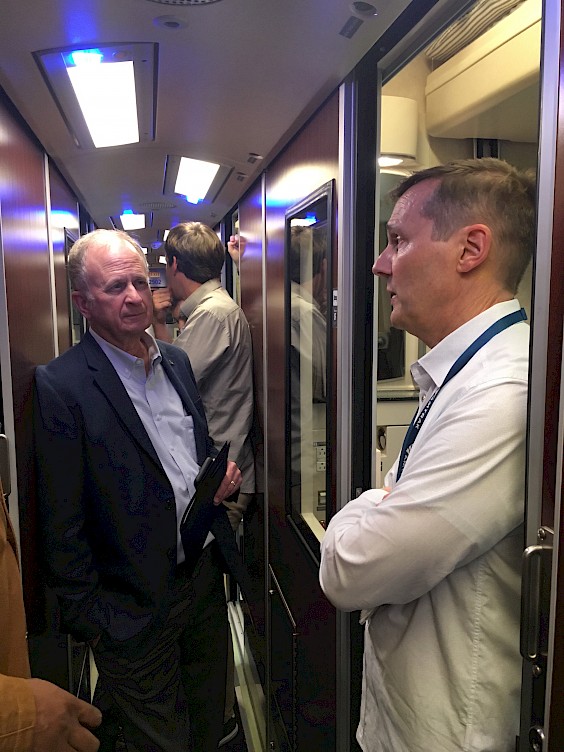 It has been a long time coming. When these four cars began accepting fare-paying passengers, it was the first time Amtrak had any new sleeping cars in some 25 years. Amtrak executives promise there is more to come, with new Viewliner sleepers and refreshed Amfleet IIs to operate on all East Coast long-distance trains as they roll out and further upgrades planned for all of Amtrak's long-distance services.
The refreshed coaches will get new seat cushions, carpets, curtains and bright LED reading lights.
Peter and Jim also had a chance to check out the new bedding and towels a year ago – "soft goods" in industry parlance – and these will be introduced to customers on the Auto Train, followed by other long-distance routes next year.
The most noticeable change during the Rail Passengers' tour of the new equipment was the decision to get rid of in-room toilets in Roomettes in favor of private restrooms down the hall. But there were many nice touches that most passengers will welcome – much more storage in each room for luggage, twice as many electrical outlets for all of those laptops and cellphones, much brighter and more versatile lighting, and a substantial upgrade from the relatively flimsy "chessboard" plastic tray tables.
The Accessible Bedroom has an automatic sliding door, an important upgrade for those who have mobility issues.
Our friends at "The Points Guy" took better pictures than Peter and Jim were able to shoot with their cellphones, so we encourage you to follow this link to more images of the new equipment and amenities.
"I wish to extend my appreciation to members of the Rail Passengers Association for their steadfast advocacy to protect not only the Southwest Chief, but all rail transportation which plays such an important role in our economy and local communities. I look forward to continuing this close partnership, both with America's rail passengers and our bipartisan group of senators, to ensure a bright future for the Southwest Chief route."
Senator Jerry Moran (R-KS)
April 2, 2019, on receiving the Association's Golden Spike Award for his work to protect the Southwest Chief