The Journey of the Tide
July 22, 2013
Written By Lessie Henderson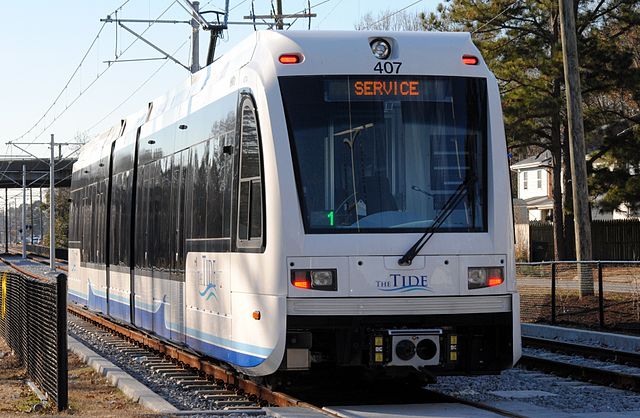 This article was written by guest voice Lessie Henderson, an intern at NARP, and an advocate for passenger trains and transit in Virginia.
A referendum passed last November in Virginia Beach supporting the city's plans to investigate expanding the Tide, a 7.4 mile light rail system to the Virginia Beach Oceanfront. The city received one private proposal that would extend the Tide five miles from Newtown Road to Rosemont Road via Town Center for $235 million dollars, less than what Hampton Roads Transit originally projected it would cost them to build the extension.
The City voted 11-0 to investigate the private proposal, thus opening up the possibility of more private offers; the Virginian Pilot has reported that there are two more groups possibly submitting offers. Once the bidding process is over, the city is likely to do one of three things: accept one of the private offers, continue with the federal study process, or do nothing at all.
The Tide would connect the Virginia Beach resort area with the new Norfolk Amtrak stop at the Tide's Harbor Park station with the possible extension to Naval Station Norfolk, ODU and the Oceanfront, which would provide an outstanding connectivity for vacationers, business people, and military personnel with the rest of the Northeast Corridor—and beyond!
Despite the expansion debates and challenges that the light rail system has faced, the bright side of this is that more people are on board for it this time around, and people realize the need for an alternative to being on the road (or minimizing their time on it). In fact, many of the riders are Virginia Beach residents who park at the Newtown station. In a past poll, 60% of the riders supported the expansion—remarkable in an area where people are often reluctant to take transit due to long wait times and limited geographic coverage of transit networks. As seen in neighboring Norfolk, the Tide has exceeded initial expectations.
When the referendum passed in the November election, it was a huge step for Virginia Beach and surrounding cities, for future development, and for convenient transportation options for the military personnel in the region. This also benefits a population from many socioeconomic backgrounds. Another highlight is that many pro-transit PAC groups were formed, along with social media campaigns promoting the need for better services in the region, recruiting diverse age groups.
Besides the strong military presence, Hampton Roads is a growing region that has the potential to develop into so much more. Better transit options and services is the key for that to happen.
Comments