Happening Now
Refreshed Coaches, Improved Sleepers Are Days Away
By Jim Mathews / President & CEO
Within just a few days, Amtrak's long-distance Coach passengers will begin to see real, meaningful upgrades to their experience – daily service is restored nationwide to trains that lost it during the pandemic, a vastly improved USA RailPass will let Coach customers roam the whole country for a month for less than $30 per segment and as the summer rolls on increasingly larger numbers of riders will get to enjoy leatherette seating, fresh carpets and curtains and upgraded LED lighting.
Amtrak's leadership team invited me to Chicago this week for two days of meetings, briefings and tours to show off the investments they've made – and will continue to make – in the long-distance product offering. I'll share some of what I learned below.
The money to kick this off came from the $1.7 billion your Rail Passengers professional staff worked tirelessly this winter to get passed into the most recent pandemic rescue bill, a figure which started out at $1.5 billion. And the impetus to improve long-distance service came from all corners, whether individual passengers, Rail Passengers members like you, or congressional offices our DC team has been educating for years about the issue.
I also told you earlier this month that even though the initial plan for Sleeper passengers' food and beverage service is to return to cooked meals, on real china with real glassware, on the Western trains that lost it during the Covid downgrades, we would keep pressing Amtrak to extend the improvements to the entire country and to Coach passengers.
We've kept our word, and Amtrak is now talking publicly about the potential to get the improved dining service rolled out to Eastern overnight trains as well. They won't commit to a firm date because it depends on many factors – ranging from staffing to how the new menu is received on board the Western trains – but Amtrak's intention here is to address these issues before the end of 2021.
My walkthrough at Amtrak's Chicago Union Station included the first refurbished Superliner bi-level coach, prototypes for refurbished Superliner Bedrooms and Roomettes, plus new and improved blankets, sheets and pillows for the Sleepers (Amtrak calls them "soft goods"), plus of course more detail on the rollout of the first phase of vastly improved dining-car service.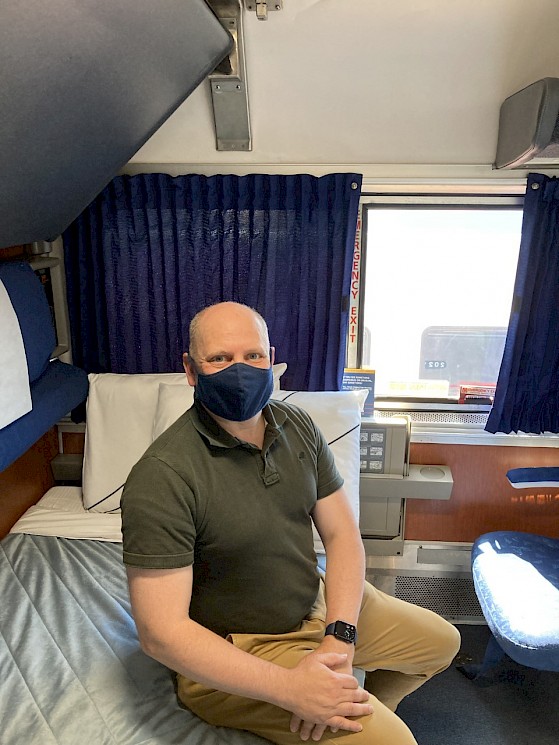 Amtrak is going to refurbish 450 long-distance cars at a rate of roughly 3 per week; it will take about a week to replace the seat covers with the new leatherette, replace carpets, install LED lighting and deep-clean each coach. Amtrak is doing the work in-house at its maintenance bases in Beech Grove, Indiana, Seattle, Washington and New Orleans, Louisiana. Only $62K per car, which is incredible, impressive and demonstrates real fiscal responsibility. Refurbished units will start to roll out in weeks, and by the end of the summer we'll see spiffy new bi-level coaches popping up around the country.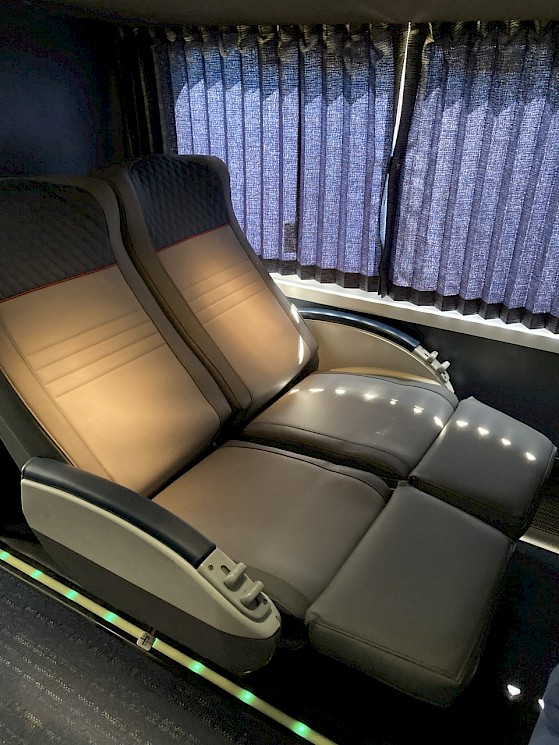 As for restoring real food, cooked on board, served on real plates with real silverware and cloth tablecloths? It's going to cost $4 LESS per passenger than the plastic-and-trash nightmare it's replacing.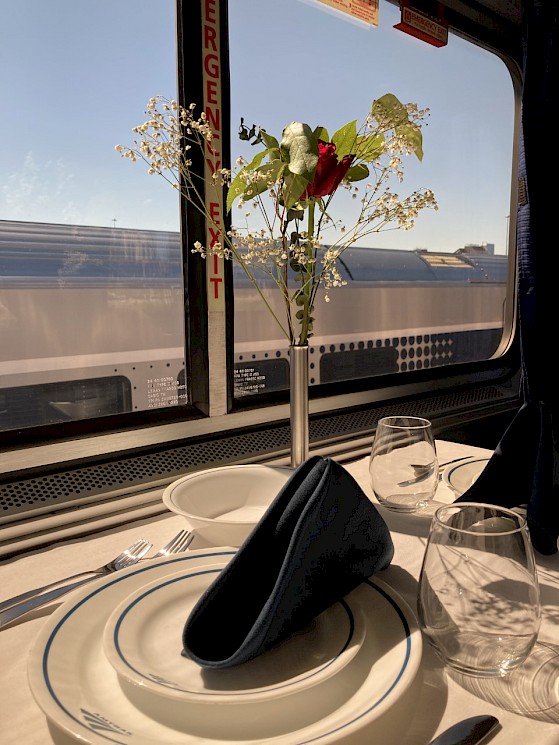 All of this week's victories – from an improved Coach experience to pro-rail amendments in the U.S. Senate – are the result of hard work by your professional staff and a partnership with engaged members like you who make the phone calls, send the emails and visit your elected officials' offices. Keep it up, it's working!
"It is an honor to be recognized by the Rail Passengers Association for my efforts to strengthen and expand America's passenger rail. Golden spikes were once used by railroads to mark the completion of important rail projects, so I am truly grateful to receive the Golden Spike Award as a way to mark the end of a career that I've spent fighting to invest in our country's rail system. As Chair of the Transportation and Infrastructure Committee, it has been my priority to bolster funding for Amtrak, increase and expand routes, look to the future by supporting high-speed projects, and improve safety, culminating in $66 billion in new funding in the Bipartisan infrastructure Law."
Representative Peter DeFazio (OR-04)
March 30, 2022, on receiving the Association's Golden Spike Award for his years of dedication and commitment to passenger rail.