Happening Now
Fox in the Henhouse
May 8, 2019
President Trump Nominates Amtrak Board Member Who Repeatedly Voted to End Amtrak
As with most of what happens in Washington DC, important developments seem to take place after regular business hours. Last night's nomination by President Donald Trump is another example of "maybe nobody will notice."
At 7:20PM Eastern last night, our policy staffers learned that President Donald Trump had nominated Todd Rokita, the former Republican Congressman for Indiana, to the Amtrak Board of Directors. They immediately began researching his voting record on rail and transit, and what they found should worry every Amtrak passenger.
We found that Rokita voted against Amtrak in 8 of the 13 Amtrak-specific amendments we tracked. Some of Rokita's most eye-raising anti-Amtrak votes include:
2017 – Voted YES on H.Amdt. 287 to H.R. 3354, filed by Rep. Mo Brooks, that would have eliminated funding to Amtrak's National Network (the amendment failed).

2015 – Voted YES on H.Amdt. 72 to H.R. 749, filed by Rep. Tom McClintock, that would have completely ended federal grants for Amtrak (the amendment failed).

2011 – Voted YES on H.Amdt. 43 to H.R. 1, filed by Rep. Pete Sessions, would have reduced Amtrak's capital grant by $446 million (the amendment failed).
Is this the person passengers want making policy that will direct Amtrak's Richard Anderson on what to do with your train? Most of what board members do happens behind closed doors, but it has a big impact on the passenger experience. They establish policies, engage in corporate management and oversight, and help decide major issues addressing the railroad.
Most passengers don't know what Amtrak's board members do—and frankly, they shouldn't have to. That's why the Rail Passengers Association exists: to know, so you don't have to keep track of the games taking place in Washington, D.C.
Our staff is already reaching out to Congressional offices to educate them on Rokita's voting history. The likelihood of knocking down this nomination dramatically improves if we can activate the voices of passengers. Those same voices shouted down replacing the Southwest Chief with buses last year—there is no reason we can't hold up a board nomination.
A suggested $50 donation supports the Association's continuing efforts to hold Washington, D.C. accountable for their blatant disregard for the National Network and all rail passengers.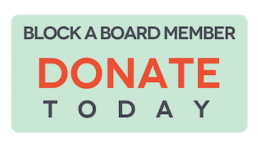 "I wish to extend my appreciation to members of the Rail Passengers Association for their steadfast advocacy to protect not only the Southwest Chief, but all rail transportation which plays such an important role in our economy and local communities. I look forward to continuing this close partnership, both with America's rail passengers and our bipartisan group of senators, to ensure a bright future for the Southwest Chief route."
Senator Jerry Moran (R-KS)
April 2, 2019, on receiving the Association's Golden Spike Award for his work to protect the Southwest Chief