Happening Now
New Long-Distance Map: It's Your Turn
by Jim Mathews / President & CEO
The second of four scheduled rounds of in-depth Federal Railroad Administration workshops to create an enhanced long-distance passenger rail network for the U.S. wrapped up last Thursday with the draft of a proposed set of long-distance segments now available for your comments and input. You have until August 21st to chime in.
We're roughly halfway through the entire study process, and already what's taking shape is a huge win. So far what's been put together could create new access to Amtrak for about half of the American population which does not already today have a way to take the train. That's 43 million people, including millions in areas of persistent poverty, poorer communities, remote rural communities, and tribal lands throughout the United States!
A new Enhanced National Network could more than double access for residents of Tribal lands, reaching two million more people. There could be a 106 percent increase in access for Tribal residents living below the poverty line, as well as a 63 percent increase in access for those in healthcare deserts and transportation-disadvantaged areas flagged under the Dept. of Transportation's Justice 40 initiative. The new network could make 73 additional medical centers reachable by passenger rail.
Service for rural residents living in "areas of persistent poverty" would rise 61 percent, and another one million rural Americans living below the poverty line would have access to passenger rail. Another nine million Americans living in rural areas would get access to long-distance service, along with five million more living in rural transportation deserts as identified in the DOT's Justice 40 initiative.
Some 600 more universities and colleges would see new service, opening up the network to two million more students.
There would also be an 18 percent increase in access to National Parks, with 11 more parks joining the 62 parks already reachable by Amtrak.
As I previewed to all of you on July 14th, the new Enhanced Network would add significant north-south service in areas west of Chicago, and meaningful multiple connections to un-served or underserved southeastern cities like Atlanta, Nashville, Chattanooga, Birmingham, Mobile, Pensacola, and Tallahassee.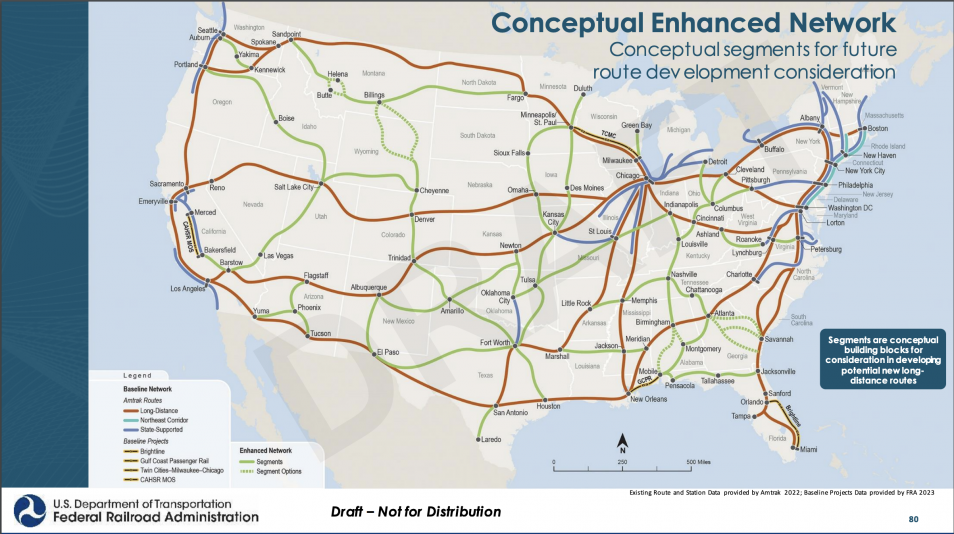 Even better, daily service on the Cardinal and the Sunset Limited, along with restored service along the Gulf Coast and the new route linking Chicago and the Twin Cities, are presumed to already exist in the Baseline Network on which this new Enhanced Network will be built. In other words, the study will proceed on the assumption that those two non-daily routes will get daily service restored regardless of whatever this study concludes. That's a big win for your Association because the language creating the study began with our professional staff asking key Senators to support a provision in what became the Bipartisan Infrastructure Law that would have required Amtrak to restore daily frequency to the Cardinal and Sunset Limited.
Overall, the emerging Enhanced Network map would see significant service additions for the Pacific Northwest, the Southwest, and the Mountain West. Multiple options would exist for getting from Chicago to Florida and other Southeast destinations without going through New York or along the East Coast.
The scoping process for this second Round seemed thorough and designed to incorporate demographic changes, directives in the Investment in Infrastructure and Jobs Act (IIJA)/Bipartisan Infrastructure Law, and the economic and social well-being requirements your Association has pushed hard for, as well as creating many more Network connections -- supercharging the "network effect."
It also turns out that the scoping process generated a map all on its own that's remarkably similar both to what a handful of named route restorations would look like, and to what our own Grid and Gateway map had conceived years ago. Moreover, the 1,800 or so explicitly named places in the 1,000-plus open comments received after the Round One workshops lined up quite well with the map the team had already generated.
The bad news is that the task has proven to be so big that FRA and its consultant team will have to shelve plans to file their report to Congress by this November, instead completing the third- and fourth-round workshops later this year and early in 2024. But the good news is that the team is committed to doing this job right, and to advancing this report as a blueprint for creating new service and not just producing a study for its own sake or just because Congress told them to. I've personally participated in 10 of the 12 workshops held around the country to date, sending staff to the two I was unable to attend in person. I can tell you first-hand that this is a serious and thoughtful study effort, propelled by the law's requirements that an Enhanced Network substantially increase access to service nationwide.
I told you two weeks ago that once the second Round of in-person workshops was complete the FRA-led study team would distribute the workshop materials on their website and solicit input from the general public. Now that moment is here. The best kind of input would be comments that respond specifically to the questions the study team is posing about this map and the proposed new service.
One of the most important things to keep in mind as you consider your comments and input is that this map is not only JUST a draft, but it is also NOT specific routes. Instead, these are just segments between a given set of origin and destination pairs. We spent considerable time during the in-person workshops using this Enhanced Network map to connect segments in varying ways in order to create new routes. This is an important part of the exercise, and one I hope all of you will consider carefully as you formulate your input.
When you do this, you'll want to start at Slide 80 in the list of slides available for review. That slide is the final draft of the collection of segments that would make up the Enhanced Network. From there, you can consider particular routings that you believe would make the most sense. For example, would you recommend a route starting in Duluth through Minneapolis-St. Paul to Sioux Falls and Omaha and then on to Kansas City and points south? Or would you connect the segments as Duluth to MSP to Des Moines, Kansas City, Tulsa and beyond? Once you've connected a few dots, compose some narratives to explain your choice of routing. That would be the sort of input that will really help the study team move ahead with the Enhanced Network.
A few caveats: there's no greenfield construction, existing right-of-way only; Amtrak is presumed to be the operator, and; this is a long-distance overlay only, on top of the Corridor ID Program shorter corridors that are accounted for elsewhere.
Review a PDF of the materials by clicking this link here, and then either submit your input into the comment box at the bottom of the study home page using this link, or send your input via email to [email protected].
In the first round, all of you produced thousands of specific recommendations which helped to shape the Enhanced Network map you see here today. Here's your chance to do it again. Your turn!

"Saving the Pennsylvanian (New York-Pittsburgh train) was a local effort but it was tremendously useful to have a national organization [NARP] to call upon for information and support. It was the combination of the local and national groups that made this happen."
Michael Alexander, NARP Council Member
April 6, 2013, at the Harrisburg PA membership meeting of NARP