Meet NARP Intern Elena Studier
October 15, 2015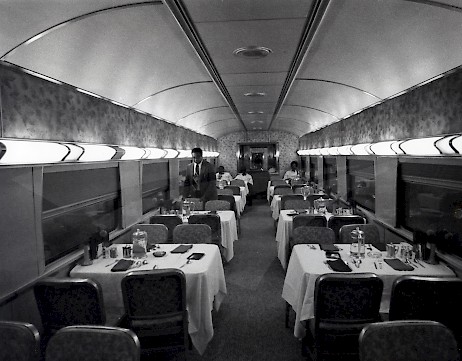 Image courtesy of the Amtrak Collection
When I pictured a train ride before I took my first one, the image that came to mind was always a heavily romanticized notion of the past. A gleaming silver exterior displays the somewhat grandiose title of the train to all the people waiting on the platform. There is a dining car with waiters in crisp uniforms and plate ware that breaks when you drop it on the floor. It was basically that scene from the movie "White Christmas," when they're on the way from an undisclosed Floridian resort town to Vermont (Rosemary and Bing not included). It was that image, or one of an overloaded young backpacker couple in some foreign country staring out a window. Trains were to me, for the longest time, not present. Or rather not in my present. I would argue that these were not biases I developed on my own, though.
If you look at what is available for consumption on trains in popular culture you have White Christmas, The Polar Express, and Thomas the Tank Engine. It is rare to find media that features trains in any kind of a practical sense, and that has a profound effect on the way we perceive them. Or at the very least the way in which I did. That is, until I took my first long haul train trip from New York to Miami, on Amtrak's Silver Meteor.
Now, from the name alone, it is clear that my first trip did not disillusion me of all my preconceived notions. The name was still somewhat grandiose, there was a dining car, and if I remember correctly, the exterior was silver. The similarities largely stopped there though.
There were people. Tons of people. I sat in front of a couple in their mid-thirties, behind a mother and toddler (who kept climbing over the seat), and next to my sister who was steeling herself for over 24 hours of train travel. People got on and off at many different stops, sometimes carrying suitcases but more often strollers or nothing at all. We had a couple of people who stayed on with us for the entire ride but for the most part people lasted five or six stops.
It became very clear, very quickly, that this was not simply a pleasure cruise but a practical, convenient, necessity, for many of our fellow riders. We were just taking it because we thought it would be fun. To be perfectly clear, it absolutely was. I saw parts of this country I never would have otherwise, got a lot of reading done, and met some truly fantastic people. But I took away a very important lesson.
Trains aren't just some romantic throwback to be enjoyed as a tourist attraction. They are a part of everyday life for millions of Americans. It is that fact that makes me so excited to work with NARP. And while I explore many aspects of train travel I hope that I do them justice by exploring the parts that are relevant to you as readers.

Elena Studier is a Transportation & Policy Intern at the National Association of Railroad Passengers. Currently, she is a second year student at George Washington University, where she studies international affairs and human geography. Elena is a native of Funabashi, Japan, and grew up in Ithaca, New York.
Comments