Happening Now
Last chance to join in the Rally to "Bring Bak Amtrak"
Written By Sean Jeans Gail
[via Visit Tallahassee]
Local residents and rail passenger enthusiasts in the surrounding areas will come together to celebrate "Bring Bak Amtrak!" with a rally on June 23 at 11 a.m. The rally's goal is to restore the Amtrak Sunset Limited Service between New Orleans and Jacksonville through Tallahassee.
Events begin at the Historic Tallahassee Amtrak Station with "Rally at Railroad Square," featuring food, drinks, keynote speakers and live music by JB's Zydeco Zoo. Ralliers round out the night with the Dwayne Dopsie and the Zydeco Hellraisers concert at The Moon. For concert tickets visit www.222moon.com. Several Tallahassee hotels listed below, are providing visitors with discounted room rates starting as low as $65 a night. Just use the promo code "Rail Rally" when you book at one of the following hotels:
Aloft Tallahassee Downtown
200 N. Monroe St.
(850)656-6312
$89.00/night plus tax
Best Western Pride Inn & Suites
2016 Apalachee Pkwy.
(850)656-6312
$64.99/night plus tax
Courtyard by Marriott
1018 Apalachee Pkwy.
(800)321-2211
$89.00/night plus tax
Doubletree Hotel
101 S. Adams St.
(850)521-6022
$94/night plus tax
Four Points by Sheraton Downtown
316 W. Tennessee St.
(850) 508-6576
$94.00/night plus tax
Hampton Inn Tallahassee Central
2979 Apalachee Pkwy.
(850)309-1300
$75.00/night plus tax
Holiday Inn Tallahassee Capitol East
1355 Apalachee Pkwy.
(850)877-3171
$68.00/night plus tax
Homewood Suites by Hilton
2987 Apalachee Pkwy.
(850) 402-9400
$89.00/night plus tax
Quality Inn & Suites Capitol District
2020 Apalachee Pkwy.
(850)877-4437
$65.00/night plus tax
Residence Inn Universities at the Capitol
600 W. Gaines St.
(800)321-2211
$109.00/night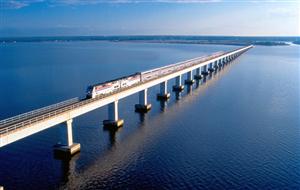 "It is an honor to be recognized by the Rail Passengers Association for my efforts to strengthen and expand America's passenger rail. Golden spikes were once used by railroads to mark the completion of important rail projects, so I am truly grateful to receive the Golden Spike Award as a way to mark the end of a career that I've spent fighting to invest in our country's rail system. As Chair of the Transportation and Infrastructure Committee, it has been my priority to bolster funding for Amtrak, increase and expand routes, look to the future by supporting high-speed projects, and improve safety, culminating in $66 billion in new funding in the Bipartisan infrastructure Law."
Representative Peter DeFazio (OR-04)
March 30, 2022, on receiving the Association's Golden Spike Award for his years of dedication and commitment to passenger rail.