In Memoriam: James Oberstar, Legendary Passenger Rail Advocate
May 8, 2014
Written By Sean Jeans Gail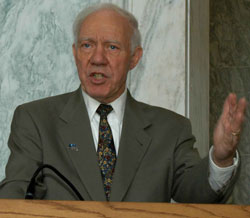 Then-Congressman James Oberstar at the NARP Capitol Hill Reception in 2008.
James Oberstar, former U.S. congressman from Minnesota and a legendary figure in passenger train advocacy, passed away earlier this week. He died May 3 at the age of 79.
NARP honored Oberstar with our Golden Spike Award in 2005, for his staunch defense of Amtrak and the national network. He understood the value of a well-balanced transportation system with strong rail and transit connections.
"Representative Oberstar has one of Capitol Hill's most extensive records in support of a modern transportation system," said then-Chairman George Chilson during the 2005 NARP Board Meeting in Minnesota. "He has worked tirelessly both in defending Amtrak and in promoting development of world-class high speed rail."
Progressive Railroading collected a sampling of the tributes from his peers and colleagues, who honored his legacy as a clear-seeing and passionate advocate for a world class transportation system for the American people:
"By the time Jim rose to chairman of the House Transportation Committee, he knew more about transportation than anyone in this country. The first time I saw Jim in action as chairman, he was presiding over a hearing on high-speed rail with witnesses from Japan and France, and several other countries, all of which—to our shame—are far ahead of us in high-speed rail. When it came time for the chairman to ask his questions, I learned that Jim had piloted every one of these high-speed trains, and Jim questioned the French witness in his own language in startlingly fluent French. It was a tour de force." — U.S. Sen. Al Franken (D-Minn.)
"Congress, Minnesota, and the nation have lost a good man who dedicated his life to public service and our country's transportation system. Jim Oberstar was respected and admired for his tireless advocacy for strengthening our infrastructure, first as a staffer, then as a member, and finally as the chairman of this committee. I believe transportation was truly in his blood, and few possessed his breadth of knowledge and passion for these issues he understood to be so important to America. I will miss my good friend, and my thoughts and prayers are with his family." — U.S. Rep. and House Transportation and Infrastructure Committee Chairman Bill Shuster (R-Pa.)
"Jim Oberstar's passion for sound transportation policy spanned decades, first as a staff person and eventually as chairman of the congressional committee that writes and oversees our federal transportation laws. He was a tireless advocate for safety, consumer protections and robust federal investment so that the American public could continue to enjoy the best transportation system in the world. His personal imprint on our national transportation policies across all modes cannot be overstated." — U.S. Transportation Secretary Anthony Foxx
Comments