How would passengers travel without trains?
Less than 10% would take a bus instead
March 19, 2019
By Abe Zumwalt
On average, trains primarily compete with cars, then planes. A larger share of passengers on trains today wouldn't travel at all than those that would otherwise take a bus.
Carefully hidden on Amtrak's website are some fascinating "Economic Impact Brochures," conducted in 2015 and 2016. They're full of color, calculated by state, and make for useful tools to provide more information for passengers like you, and the stakeholders for trains in your state. However, it wouldn't be a surprise if you've never seen them before.
One of the more captivating metrics on these sheets is a ranking of ways passengers would travel without train service. On the second page of each sheet, broken out in pie charts, for each state is listed how many passengers would otherwise have driven, flown, taken a bus, or not traveled at all. The percentage for each option for every state listed in the brochures, multiplied by ridership numbers by state, produces a national average: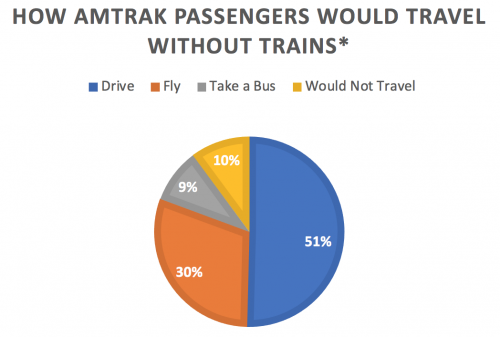 Given the enormous costs of infrastructure, pollution, and carnage caused by car travel, attracting people to cleaner and safer trains is great policy that can save us all money and potentially heartache. On average, 50% of rail passengers would otherwise be in their cars.
Flying is also currently very dirty – and can be expensive, especially to some of the more obscure destinations accessed by the national passenger railway network -- the 30% of passengers that would have otherwise flown are probably saving money.
Busses are efficient, clean, cheap, and relatively safe. However, taking the sheets at face value, nationally only 9% of rail passengers would otherwise take a bus. It is clear from this that busses and trains don't substitute for one another, contrary to too much common assumption. There are many reasons as to why this could be – although passengers like yourself probably know best.
The last one is the big one – the 10% of train passengers nationally who would not travel at all. Those passengers are important, as the trips they're making, and the money spent in the places they're visiting, would vanish without the passenger railway network.
Below see the breakdown, by state, taken from the Economic Impact Brochures. Definitely check out your own state – there is variation, and the averages discussed just now don't hold perfectly from coast to coast. For example, in West Virginia, only 2% would otherwise travel by bus, while that number jumps to 40% in Maine. An amazing 70% of passengers in Wisconsin and Oklahoma would otherwise drive, while only 34% of Nebraskan rail passengers would get in their cars if the trains didn't run. 20% of passenger trips in Nevada and Montana would presumably disappear without the train.
HOW AMTRAK PASSENGERS WOULD TRAVEL WITHOUT TRAINS
By State
| | | | | |
| --- | --- | --- | --- | --- |
| State | Drive | Fly | Bus | Not Travel |
| Average | 51% | 30% | 9% | 10% |
| AL | 59% | 25% | 4% | 12% |
| AR | 58% | 27% | 6% | 9% |
| AZ | 39% | 44% | 8% | 9% |
| CA | 55% | 27% | 7% | 11% |
| CO | 45% | 37% | 3% | 15% |
| CT | 52% | 26% | 16% | 6% |
| DC | 36% | 40% | 15% | 9% |
| DE | 63% | 20% | 8% | 9% |
| FL | 65% | 28% | 4% | 3% |
| GA | 38% | 49% | 6% | 7% |
| IA | 41% | 31% | 9% | 19% |
| ID | 35% | 49% | 2% | 14% |
| IL | 55% | 24% | 11% | 10% |
| IN | 57% | 19% | 14% | 10% |
| KS | 41% | 45% | 5% | 9% |
| KY | 46% | 32% | 16% | 6% |
| LA | 39% | 41% | 7% | 13% |
| MA | 37% | 35% | 21% | 7% |
| MD | 54% | 27% | 8% | 11% |
| ME | 51% | 4% | 40% | 5% |
| MI | 66% | 12% | 10% | 12% |
| MN | 51% | 30% | 8% | 11% |
| MO | 64% | 19% | 7% | 10% |
| MS | 59% | 27% | 4% | 10% |
| MT | 44% | 36% | 0% | 20% |
| NC | 63% | 20% | 9% | 8% |
| ND | 54% | 33% | 5% | 8% |
| NE | 34% | 45% | 7% | 14% |
| NH | 64% | 27% | 0% | 9% |
| NJ | 48% | 39% | 6% | 7% |
| NM | 36% | 41% | 6% | 17% |
| NV | 47% | 28% | 2% | 23% |
| NY | 40% | 30% | 22% | 8% |
| OH | 45% | 33% | 17% | 5% |
| OK | 70% | 11% | 7% | 12% |
| OR | 47% | 27% | 14% | 12% |
| PA | 56% | 21% | 14% | 9% |
| RI | 46% | 37% | 14% | 3% |
| SC | 50% | 37% | 5% | 8% |
| TN | 55% | 34% | 7% | 4% |
| TX | 51% | 31% | 8% | 11% |
| UT | 35% | 52% | 2% | 11% |
| VA | 63% | 27% | 4% | 6% |
| VT | 50% | 18% | 23% | 9% |
| WA | 47% | 32% | 10% | 11% |
| WI | 70% | 10% | 13% | 7% |
| WV | 48% | 34% | 2% | 16% |
Comments