Amtrak breaks ridership records, but Congressional attacks continue
September 12, 2012
Written By Sean Jeans Gail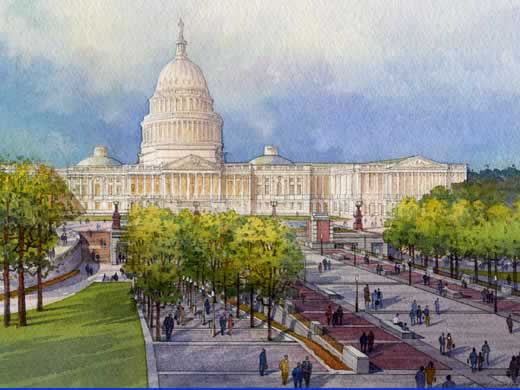 Amtrak announced this week that it has experienced 11 consecutive monthly ridership records in the current fiscal year, setting its highest ever single month ridership record in the month of July. However, that good news didn't stop Congressional critics from going through with a hearing attacking Amtrak's involvement in commuter operations a day after the announcement.
Amtrak issued the release on September 10, the day before House Transportation & Infrastructure Committee Chairman John Mica (R-FL) held a hearing titled "Amtrak Commuter Rail Service: The High Cost of Amtrak's Operations." The release—which may have been designed to preemptively counteract criticism leveled against the company—highlighted the decade of unprecedented growth experienced by the railroad:
Through 11 months of FY 2012 (October 2011 - August 2012), total Amtrak ridership is up 3.4 percent as compared to the same period last year. When the current fiscal year ends on September 30, Amtrak expects a new annual ridership record will be set, surpassing the current record of 30.2 million passengers established in FY 2011.
From FY 2002 to FY 2011, Amtrak ridership increased 44 percent and set new annual records in 8 of those 9 years. This long-term growth is occurring across the Amtrak national network and on all Amtrak business lines, including the Northeast Corridor, state-supported and other short-distance routes, and long-distance services.
The good news didn't find its way into the statements made by Chairman Mica, who blasted Amtrak for its involvement in the commuter rail market in his prepared statements.
"Amtrak is a highly subsidized, Soviet-style rail system, but despite every ticket being underwritten nearly $50 by the taxpayers, Amtrak is an absolute failure in competing with the cost-effectiveness and level of service provided by the private sector," Mica said. The Chairman went on to say that "Amtrak needs to get out of the commuter rail business, the private sector should be given more opportunities to save taxpayers money in operating rail service, and federal funds should never be used by Amtrak to sue private entities for competition-related lawsuits."
The hearing featured Amtrak's President & CEO, Joseph Boardman, as well as representatives of independent rail operators and organized labor. Boardman pushed back against the Chairman's claim that Amtrak was operating monopolistically, pointing out that Amtrak only operates three commuter services out of the 26 commuter carriers in America listed by the American Public Transit Association—with Mica conceding that point. Overall, Boardman seemed philosophical about the company's place in the market:
From Amtrak's point of view, the contract commuter business has both costs and benefits. It can generate net revenue, which allows us to reduce our dependence on Federal operating support. Because we do not use Federal funds to cross-subsidize these agencies, our bids can be more expensive than those of private companies that may underbid to enter the market or to build a market for other services such as capital replacement. Whatever the cause, profit margins have decreased significantly in recent years.
Liability is also a major challenge. As you know, while Amtrak must maintain $200 million in liability insurance, other commuter operators are not subject to this requirement. When we take on a service, we must ensure that we don't take on a liability obligation that could leave us vulnerable to a judgment or an award that could impact our financial viability. There are a lot of companies competing for the commuter business, and we are finding that agencies are increasingly asking them to take on much greater liability exposure in the event of an accident rather than having the agency purchase its own insurance to cover the risk. Amtrak cannot assume that risk. When responsibility for liability exposure is passed to a private commuter service operator that does not have adequate insurance, and can be constructed so that it can escape an unaffordable liability judgment through bankruptcy, the risk is in effect transferred to the riding public. If Amtrak assumes that liability, then the costs generated by a single commuter operation are transferred to the federal taxpayer, an option we do not believe is in our best interest.
The liability issue recurred throughout the hearing. However, a solution was not evident. When Representative Peter DeFazio (D-OR) asked about the objections leveled by independent operators against a recent Senate proposal that would've extended requirements placed on Amtrak to all rail operators, Joe Giulietti—Executive Director of the South Florida Regional Transportation Authority (Tri-Rail)—stated that the cost of acquiring $200 million in liability insurance was prohibitively high for most passengers rail companies. When DeFazio shot back that $200 million was necessary—pointing to the settlement sums involved in the 2008 Metrolink crash in Chatsworth, California—Giulietti demurred, saying only that the liability reform needed to be addressed in an open manner that involved stakeholders.
Representative Corrine Brown (D-FL) attacked the hearing itself, calling it inappropriate given its coincidence with the 11thanniversary of the 9/11 terrorist attacks. The Ranking Member argued that the committee should be focusing on unresolved security issues facing transportation.
"But we're not holding a hearing on rail security … we are having a hearing, once again, criticizing Amtrak all while members of Congress are gathering on the East front steps of the Capitol," said Congressman Brown. "The fact is on this very day 11 years ago Amtrak and its employees worked around the clock to provide one of the only traveling options for many of this country."
Comments