Happening Now
Archive -- 2019 New York State Passenger Rail Advocates Meeting & Lunch
Date
Saturday, March 9, 2019 11:00 AM Saturday, March 9, 2019 4:00 PM
Location
Key Hall At Proctors 436 State Street Schnectady NY
39th Annual Joint Empire State Passengers Association (ESPA) and Rail Passengers Association Advocates Meeting
Saturday, March 9, 2019
11:00am - 4:00pm
Key Hall At Proctors - 436 State Street - Downtown Schenectady, NY
(Two Blocks From Schenectady Amtrak Station) - Ample Nearby FREE Parking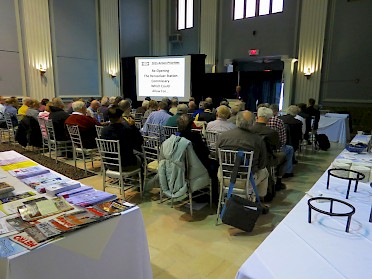 Confirmed Speakers:
Congressman Paul Tonko (D-NY20)

Schenectady Mayor Gary McCarthy

Michael Wojnar - Deputy Secretary For Transportation - Office of Governor Andrew Cuomo

Bill Hollister - Government Affairs Senior Manager - Amtrak

Donald Corkery - Director of Training (Ret.) - Long Island Rail Road

Bruce Becker - Vice-President Operations - Rail Passengers Association
​​Full Program Registration Includes The Meeting, A Three Course Luncheon And Beverages…
Attendee Registration - $40.00 Per Person - ALL Registrations Made On Or Before March 2nd
$45.00 Per Person After March 2nd And At The Door (No Mail-In Registrations After March 2nd Please)
Meeting ONLY Attendee (No Lunch) Registration - $25.00 Per Person
Please complete either the On-Line Registration or Mail-In Form (with your payment check for the appropriate registration fee), to be received NO later than March 2, 2019. (NO cancellations after this date).
ALL registrations (on-line ONLY) made after March 2, 2019 will be at the $45.00 Full Late Registration rate.
Please Note: Written confirmation of your mailed meeting registration and payment having been received is NOT provided unless specifically requested (i.e. tickets are not mailed to you in advance of the meeting). Meeting registration begins in the Key Hall foyer at 10:00am.
Contact ESPA President Gary Prophet at [email protected] for more information.
"On behalf of Amtrak's onboard service staff, I want to thank the Rail Passengers Association for honoring their hard work with this award. The past couple years have indeed been difficult for Amtrak onboard service staff – coping with furloughs and job insecurity, adapting to changing protocols and services, not to mention the unfortunate events such as a tragic derailment and a fatal shooting. Nevertheless, our dedicated members at Amtrak have handled these hurdles with the care, attention and diligence for which they're known. We thank Rail Passengers for their acknowledgement of our members' hard work and, as always, look forward to seeing you on the rails."
Arthur Maratea, TCU/IAM National President
December 21, 2021, on the Association awarding its 2021 Golden Spike Award to the Frontline Amtrak Employees.