Happening Now
Archive -- All Aboard Ohio 2018 Annual Meeting - Hilliard, OH
Date
Saturday, May 12, 2018 9:00 AM Saturday, May 12, 2018 3:00 PM
Location
Makoy Center, 5462 Center Street Hilliard OH 43026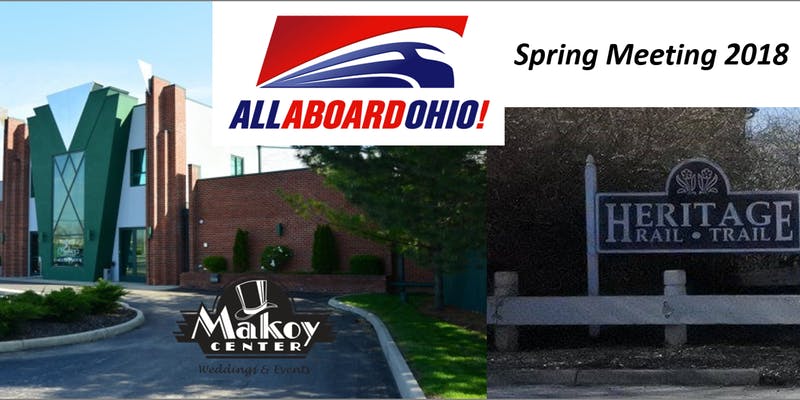 Saturday, May 12, 2018
9:00 AM – 3:00 PM EDT
5462 Center Street
Hilliard, OH 43026
Join All Aboard Ohio (AAO), Ohio's premiere passenger rail advocacy organization, for its 2018 Annual Meeting.
The Meeting will provide the latest information on the state of passenger rail in the United States, the Midwest, and Ohio. Additionally, attendees will learn about the recent developments in public transit in Columbus / Central Ohio.
Doors open at 9:00 AM. A continental breakfast will be provided. (Attendees are encouraged to arrive early to allow for everyone to be checked-in prior to the start of the presentations and to have some time for socializing.)
Lunch (included with all tickets) will be served around 12 PM, and the event will end around 3:00 PM
This event is open to the public, but registration is required.
Featured speakers/topics:
Thea Walsh and Dina Lopez, transportation planners at the Mid-Ohio Regional Planning Commission (MORPC): Chicago-Lima-Columbus-Pittsburgh corridor planning update
Midwest Regional Rail Plan update
Federal passenger rail funding boost in the latest omnibus spending bill
Ohio state government/rail/transit matters
Public transportation funding issues
All Aboard Ohio board of direction election
"Saving the Pennsylvanian (New York-Pittsburgh train) was a local effort but it was tremendously useful to have a national organization [NARP] to call upon for information and support. It was the combination of the local and national groups that made this happen."
Michael Alexander, NARP Council Member
April 6, 2013, at the Harrisburg PA membership meeting of NARP